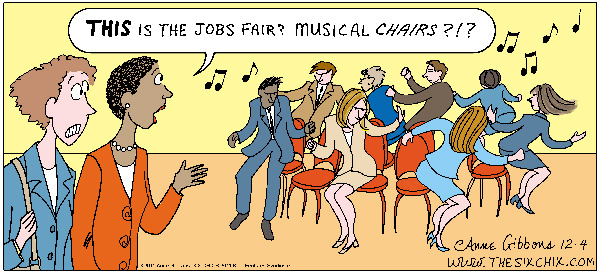 I came across this comic strip last week while I was busy with one of my new tasks – coaching candidates and schools through the head of school (HOS) search process.  As I have been deepening my engagement with candidates, search committee chairs and executive recruiters, a number of thoughts have occurred to me and I thought since this is (still) the season, they were worth sharing out for feedback and discussion.
The Most Inexact of Sciences
Up until this year, my experience with the JDS HOS search process was exclusively as a candidate.  Over the course of my career, I have applied for a variety of positions.  I applied for RAVSAK schools; I applied for Schechter schools.  I applied at large schools; I applied at small schools.  I applied to schools that used a variety of executive search firms; I applied to schools that ran their search processes in-house.  I was a finalist for some positions and I never made it past the initial screening call for others.  In the end, I felt blessed when offered jobs and I felt disappointed when not offered other ones.
What was most consistent across these search experiences was the incredible inconsistency.  Everything was very different from school to school, without any discerning pattern.  Schools asked that I teach students and/or parents and/or teachers and/or no one.  At different times I was asked to prepare…
…divrei Torah for faculty.
…PowerPoint presentations for the board.
possible marketing plans.
possible development plans.
analyses of the current school based on supporting documents.
analyses of the current school without supporting documents.
inspirational speeches about my vision of education.
etc.
In deference to time and space limitations, I will refrain from detailing further variances in everything from which stakeholder groups I did and did not meet with, how long I did or did not visit, and the ways in which I was and was not treated.  Suffice it to say that there was an extraordinary degree of difference between one school's search process and another.
Looking at it now, I can see that on the one hand it makes sense and is actually helpful. Each school is different and experiencing different approaches to the search process can help the candidate discern a cultural fit.  Plus, the experienced and/or coached candidate knows what questions to ask and which people to see so as to ensure they have the information they need to make an informed decision.
On the other hand it, looking at it from a 20,000 foot perspective, shouldn't a process as critical to school success as identifying the "best-fit leader" should have some data-driven standardization to increase the odds?  [I am not sure it is a financial issue.  Some of the most thorough and affirming (even if I didn't get the job) processes I went through were at small schools who handled their searches in-house.]
All It Takes Is One (Human) Mistake
One theme that runs through all my experiences and conversations is the impression that it can actually all come down to one ill-timed smirk, one distracted conversation with an unknown influencer, or one offhand comment to a sensitive stakeholder.
Once, I came down with a pretty bad head cold the day before I was to fly out for a finalist visit and had to decide whether to gut it out or to reschedule.  I opted to stock up on over the counter meds and go for it.  The air pressure on the plane took out my hearing for the entire finalist visit!  Even though I felt lousy, I thought I had done well.  When I was informed that I had not gotten the job, part of the feedback I received was that there people who had felt that I had spoken so loudly [because I couldn't hear myself speak!] that it raised concern that parents and teachers would think that I was an angry person.
Now was that the (only) reason why I didn't get the job?  Who knows?  I would like to think not, but like so many candidates before me, those are the types of stories that stick with you as you go through the rounds.
The Missing Peace
Now that I am working with the schools as well as the candidates, I have noticed another phenomenon.  Schools often search for a new leader to fill the missing 30% of the prior leader.  If you read the job descriptions for most HOS positions, you will see a list of attributes, skills and experiences that I cannot imagine any one human being possessing.  Let's say the best of candidates might have about 70% of the complete set.  In large schools, you can try to complement the remaining 30% by rounding out the administrative team.  In small schools, you can try to complement by using lay leadership and volunteers, but that tends to be a riskier proposition.
This may be one reason there is both a crisis in small schools and in HOS wellness.
The pressure to be everything to everyone can be extremely challenging for the leader, no matter how much coaching s/he receives.
The temptation to seek what's missing in the next leader can lead a school back and forth and back again trying to continually fill a gap that can never fully be filled.
Grass is Greener
To be fair this happens on both ends.  Let's say any headship has about 70% of all the things one could hope and dream for in a position – salary, lay support, faculty excellence, fundraising capacity, etc.  In a world of scarcity, one can also be tempted to seek that which is missing in your current headship, thereby perpetuating a search for something that doesn't exist.
There is no perfect school and there are no perfect heads.
To be clear, I have certainly moved from position to position for the purpose of furthering my career.  And schools have every right to expect the best from their heads and to seek new leadership if and when they feel new leadership is called for.  At the level of the individual leader or school, it all seems fairly straightforward.
And yet…
I do wonder at what cost to the field this elaborate game of musical chairs is taking?  If the average length of tenure for a head of school (2.7 years) is less than that of a successful change of school culture (3-5 years)…
…well at some point in every person's career and in each school's search, the music will stop and there won't be a seat left in the game.
Who wins then?