Ah late November…
…while my internal thermometer still thinks it should be shorts weather and my internal clock still thinks it is almost time for turkey and football, the truth of things is that here, in wintry Ottawa, I am making my way through each and every report card as we gear up for Parent-Teacher Conferences.
In light of the season – Report Card Season – and in light of the many (long) serious blog posts I have been cranking out, it seems like it is just the right week for my annual word cloud post, complete with awful puns.
If you missed last year's punny post…
I do love to take an opportunity once a year to run my blog through a word cloud app or website.  If you are unfamiliar with the idea, in a nutshell, word clouds (through an algorithm only they know) take any piece of written text and represents it graphically in a way which highlights frequently-used words.  It is a fantastic device for visually summarizing the essence of a written text.  Another great feature is that, not only can you cut-and-paste in any written document, you can type in blogs, websites, etc., and it will go back and search them for content, add it all up, and spit out a word cloud representing the sum of all its written content.
This is my third such annual post here at OJCS and I have done them each at approximately the same time of year.  So, what does this year's BlogCloud look like and what does it reveal?  [If it is too small on your screen/device you can go ahead and zoom in.  Or just scroll up!]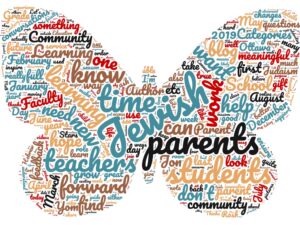 I love the nexus of time-Jewish-teachers-parents-students!  I like seeing words like "Community", "Learning", "Meaningful", and "Forward" increase in size.  I think it is great to see "Questions", "Conversations", and "Feedback" make an appearance.
What words would you have expected to see?  What words are you disappointed to see?
If you see something interesting in my OJCS BlogCloud, let us know in the comments!