With all the workshops and meetings and slides and conversations about our blogs, it is sometimes easy to forget (at least for me) that the best way of showing the power, the impact, and the learning on the blogs is to actually show it!  Recognizing that it still may be a new routine for families and that most families surely don't have the bandwidth to visit all the blogs, let me serve as your occasional tour guide of The OJCS Blogosphere.  I hope to do this a few times a year to inspire OJCS families to invest a little time, to inspire other schools and thought-leaders who may visit my blog from time-to-time, and to forge connections between our work and other fellow-travelers because we really do "learn better together" [North Star Alert!]
From the OJCS (Middle School) Mathematics Blog (click here for the full blog)
Math Escape: Grade 8 Dinner Party! – Posted on October 28th
Grade 8 participated in their first Math Escape Room of the year on Friday.
They got a taste last year, and loved it so much, that I had to put together another one and bring it back to life this year!
October's theme: a Dinner Party! How much food? When to start each recipe? How to set the tables? ….and picky eaters!
Students were "Trapped in Math Class" for 60 minutes in small groups. They had to beat the clock to correctly answer four tough and tricky questions that pushed them to squirm and struggle. Topics included logic problems, algebra, and area of circles.(had to figure this out from notes and clever resources-since we haven't learned it formally yet!)
So with the room set, and the students eager with positive attitudes they took on the challenge…and as the struggled through, they came out on the other side all escapees from this month's escape room!.
Here's a peak into their "struggle," and now thanks to my over using my "dontstealthestruggle"phrase, students are often heard saying back to me, "Mrs Cleveland, no, don't help, don't steal my struggle, I can figure it out."
Could I be more proud?!  Let's see what they got what it takes to escape in November's room, I'm already preparing it! Bring it, grade 8! Show me what you've got!
…stay tuned….grade 7 takes on their first escape room tomorrow! They're ready for the challenge!
Take a look…
From the Grade One – Kitah Alef Blog (click here for the full blog)
Proud Teacher Moment – Posted on November 1
What an amazing feeling it is to walk in on my students during recess and find  a few of them playing (IN HEBREW) a game I used with them yesterday to practice hebrew vocabulary.
They truly exemplify OJCS's star – "We own our own learning. We own our own stories."
And to make matters BETTER. As I was writing about this, I heard my students using the Hebrew song I taught them for lining up during transition time in another class.
My heart feels so fulfilled at this moment! My dream (having OJCS students using Hebrew NOT ONLY in Hebrew class) is coming true…
I am truely soooo proud!
TODA YELADIM!
From the Grade Five – Kitah Hay Blog (click here for the full blog)
Student Vote 2019 – Posted on October 18
We had a great turnout for our Student Vote yesterday! The grade 5 students prepared and delivered! It was a long morning, where lots of patience was needed, but they stepped up to the challenge and were true model students and citizens.
We started the morning learning how to fold and initial the ballots to ensure they were all "kosher" and hadn't been tampered with. They also witnessed and confirmed that the ballot boxes were empty before they were sealed.
And then the fun began! We welcomed all the classes from grades 3 to 8 into our room, presented important information on the main party platforms, and then worked as Poll Clerks and Deputy Returning Officers to guide voters through the voting process.
We can't wait to share the results with you, after the polls close for the rest of the country, on Monday evening. We will be counting the votes on Wednesday so stay tuned!
From the OJCS (Middle School) Francais Blog (click here for the full blog)
Nos futurs politiciens? – Posted on September 20th
Nos étudiants et étudiantes de la classe de la 8e année de Mme Bertrend et de Mr. Cinanni ont eu l'honneur de participer à deux tables rondes, avec le Parti Conservateur et le Parti Vert, respectivement.  Les élèves ont pu vivre une expérience unique, en écoutant des politiciens répondent des questions auxquelles font face la communauté juive, à Ottawa et à travers le Canada.
Ils ont aussi la chance de poser une question aux deux partis, en trois langues !  Vive le trilinguisme à OJCS !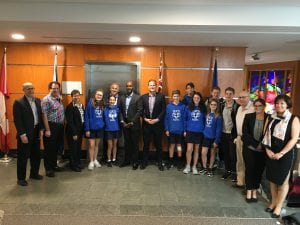 Our teachers and students are doing some pretty fantastic things, eh?
I will continue to encourage you to not only check out the blogs on The OJCS Blogosphere, but I strongly encourage you to offer a quality comment of your own.  Getting feedback and commentary from the universe is highly motivating and will help this snowball grow as it hurtles down the hill of innovative learning.
For our next tour, I'm going to give you a taste of what is happening with our Grades 5 & 6 student blogfolios.  Stay tuned!