I thought I'd take break from Jewish Holidays despite today's amazing Sukkah Hop (follow us on social!) and next week's climactic chagim, to take us on our first tour this year of The OJCS Blogosphere.  Recognizing that it still may be a new routine for families and that most families surely don't have the bandwidth to visit all the blogs, it is my pleasure to serve as your occasional tour guide.  I do this a few times a year to inspire OJCS families to invest a little time, to inspire other schools and thought-leaders who may visit my blog from time to time, and to forge connections between our work and other fellow-travelers because we really do "learn better together" [North Star Alert!]  This week I will focus on classroom blogs and, in the future, I'll curate from school leadership blogs as well as student blogfolios.


From the Middle School Jewish Studies Blog (click here for the full blog)
Grades 6-8: Yad B'Yad Mitzvah Initiative Update – Posted on October 12
Our Mitzvah Trips are off and running! The Yad B'Yad (hand in hand) Mitzvah Initiative provides students with incredible opportunities to give back to our community and put their Jewish values into action. The theme of our Mitzvah Trips for this month is Kehillah Kedoshah. The phrase translates to a sacred or holy community. Students are learning about the importance of community. We are focusing on donating our time and giving back to others in our community. Our goal is to interact with and support various communities in Ottawa. Our first three Mitzvah Trips have focused on engaging with valued members of our Ottawa Jewish Community.
Together, they helped OTT at KBI Supplementary School step into the new year on the right foot by working to beautify the space. Students painted the walls, set up classrooms, and organized learning spaces.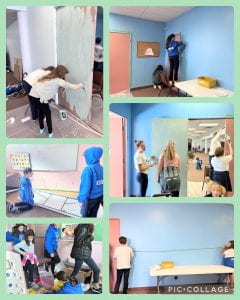 The second week of our Yad B'Yad mitzvah initiative allowed our middle school students to make mini apple pies and challah buns to donate to the Ottawa Kosher Food Bank. Thank you to A Dashing Pinch – Village Café for overseeing our efforts and baking these delicious treats!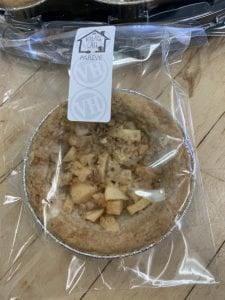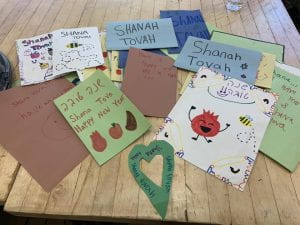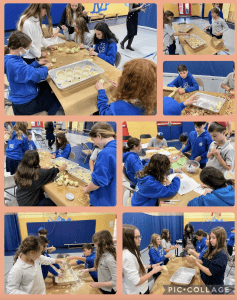 Our third week provided students with the opportunity to get creative! Students spent time creating decorations for our sukkah. In addition, a group of students went to the JCC to help make decorations for their sukkah. Check back soon to see what other amazing Mitzvah Trips that students are participating in.


From the Kindergarten – Gan Blog (click here for the full blog)
On International Dot Day, SK Made Their Mark – Posted on September 16
On September 15, 2022, the kids in SK celebrated International Dot Day!!!  If you're not sure what International Dot Day is all about, here's a little explanation:
September 15th marks the anniversary of the publication of best-selling author/illustrator Peter H. Reynolds' The Dot, a "story book for all ages."

Starting in 2009, a group of educators began celebrating this date as International Dot Day — a day for classes to explore the story's powerful themes: bravery, creativity, and self-expression.

The Dot tells the story of a caring teacher who reaches a reluctant student in a remarkably creative way. In Peter's book, the teacher dares a very resistant Vashti to "make her mark." Vashti's breakthrough begins with a simple dot on a piece of paper. Encouraged by her teacher she sets off on a journey of self-discovery, letting her creativity bloom and, ultimately, inspire others.

from The Educator's Handbook for International Dot Day
To mark this special day yesterday, after reading the book, the kids got to explore their own creativity by making their own unique dot.  They experimented with colour mixing by using markers on coffee filters and then spraying them with water at the Saturation Station.  They also drew their own special masterpieces to make their mark.  We listened to and watched a video of the "The Dot Song" written by Emily Arrow and Peter H. Reynolds…. you can watch the video and do the actions at home here.
The school year may have just begun, but the kids in Senior Kindergarten have already made their mark in a big way!!  Check out the pictures below and then keep scrolling for some important upcoming dates!!!


From The OJCS Library Blog (click here for the full blog)
Life Cycles and Migration Storytime – Posted on September 28
Today we read the beautiful book Bird, Butterfly, Eel by James Prosek.  This will give us a great introduction to the subject of both life cycles and migration.
For a follow-up activity, download the amazing activity guide booklet available at the National Environmental Education Foundation website.


Our teachers and students are doing some pretty fantastic things, eh?
I will continue to encourage you to not only check out the blogs on The OJCS Blogosphere, but I strongly encourage you to offer a quality comment of your own.  Getting feedback and commentary from the universe is highly motivating and will help this snowball grow as it hurtles down the hill of innovative learning.