There is some irony (that may not be the best word) that COVID-19 delayed our official grand opening of the OJCS Makerspace (with generous support from the Congregation Beth Shalom of Ottawa (CSBO) Legacy Endowment Fund), and that the OJCS Makerspace has yielded our school's first significant contribution to the community's response to COVID-19.  We had softly opened the space prior to pivoting to distance learning while furniture and equipment were still coming in, but our official grand opening had to be indefinitely postponed.  This week, however, we got a firsthand look at what having a makerspace for our students can mean for their learning and for our community.
The Talmud (Kiddushin 40b) describes a debate about whether the study of Torah leads to action or whether action leads to the study of Torah, and like most talmudic debates, the answer is, of course, "yes".  At the Ottawa Jewish Community School, we deliberately create experiences and learning holistically.  Our Jewish learning and values inspire us take action to repair the world and our engagement in the world inspires us to further our Jewish learning.  This project is a wonderful embodiment of this idea in practice.
Going back a number of weeks, a parent and frontline healthcare professional, Dr. Joanne Tannebaum, came to us with an idea.  A colleague of hers had worked out a design for 3D-printing face shields and "ear-savers" and she wanted to know if we wanted to participate.  We talked it through, brought in our Middle School Science Teacher Josh Ray, and decided that the most logical partnership for our Community School would be the Bess and Moe Greenberg Family Hillel Lodge, our community's Jewish Home for the Aged.  I reached to their CEO, Ted Cohen, and with his enthusiastic support and partnership, we were on our way!
The next step was to host a meeting between our Middle School, Dr. Tannenbaum and the leadership from Hillel Lodge to officially launch our project for producing PPE for their frontline healthcare workers through our school's 3D printer.  During that meeting, our students got a chance to hear firsthand about the importance of PPE and were given both a design challenge (How can we make face shields and surgical masks more comfortable?) and a practical challenge (How will we create, assemble and deliver the final product?).
Mr. Ray went ahead and safely retrieved our school's 3D printer from the Makerspace, gathered supplies, recruited student volunteers and the work began!
The easier of the two to produce is the ear-saver: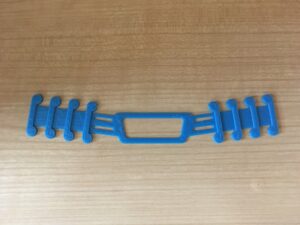 This item helps anyone who has to wear a surgical mask or face shield relieve the pressure off their ears.  You loop your mask on the appropriate notch and voilà – your ears are spared.  This one is easily printed, comes in lots of colours, and our students have even managed to personally inscribe messages.
Why does this work matter?  Let's see what Mr. Ray has to say:
For me, this project is so important for many reasons. It teaches students 21st century skills like 3D modeling, while connecting the importance of community and empathy at the same time. I think everyone is always looking to serve, and give back wherever possible. The need for PPE in the community has provided both the students and I that opportunity. I'm so proud of the commitment and character shown from the group of students that volunteered their own time to get involved.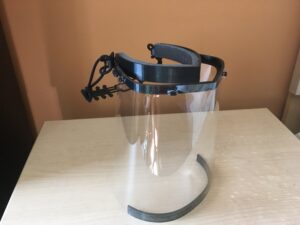 The face shields were a little more complicated.  Because we have a smaller-sized 3D printer, it took some time, research and trial-and-error to find a program that allowed us to print plastic to hold a full-sized shield.  But Mr. Ray and team eventually figured it out and we are thrilled that we can now deliver these to Hillel Lodge.
Our first (there will be more!) delivery took place on Wednesday, June 17th and it was wonderful have a couple of our Grade 8 students – Talia C. and Jessica A. – join me, Mr. Ray, Ted Cohen, Karin Bercovitch, CFO and Morag Burch, Director of Nursing to commemorate the occasion.
What is the impact of this project?  Let's see what Mr. Cohen has to say:
All long-term care homes including the Bess and Moe Greenberg Family Hillel Lodge has a critical responsibility to keep our residents safe during the COVID-19 pandemic. Personal Protective Equipment such as face-shields and masks are vital to protecting our residents and staff during this pandemic. We are grateful for the strong partnership we have with the Ottawa Jewish Community School and for their assistance creating face-shields and masks extenders for our front-line workers. This innovative initiative is not only an educational experience for the students but provides our team with vital supplies. We are thankful for the assistance we've received and look forward to continuing to develop our partnership.
At the end of the day, this is an example of what it means to live our values, to reach towards those North Stars.  I cannot think of a better way to express what it means when "We own our own learning," and then make sure that "We are each responsible one to the other".  I know that it is easy to reduce things to slogans and hashtags (guilty as charged), but slogans and hashtags are meaningful when they serve as both reminders and catalysts.
So, what does it mean when we say #WhenTorahLeadsToAction?  Let's ask Talia:
It was such a meaningful experience for me to be able to help my community in a time of crisis. It always feels good to give back to the Jewish Community, and be a part of something bigger.
What does it mean when we say #TheOJCSDifference?  Let's ask Jessica:
Over the years, Hillel Lodge has provided me with so many life lessons and experiences that have enriched me as a person. Since kindergarten I have been involved with Hillel Lodge therefore, I wanted to give back to a place that has so much significance in my life.
Thanks to everyone at OJCS and Hillel Lodge who played a role in bringing this partnership and project to life!  Let our next innovative collaboration be inspired by health and joy…