What I am thinking about today in the midst of all the noise, is the holiday of Chanukah, which begins next week and what can be learned by refracting it through the lens of a post-October 7th landscape.
There is something about Chanukah which is tailor-made for this moment.  Chanukah is the only Jewish holiday without a sacred text of its own.  (There is a Book of Maccabees, but it is part of the Catholic Bible.)  Instead of a public reading, we are commanded to bear silent witness to the miracles of the season with a public doing – the lighting of candles in a window.
There may be no simple Jewish ritual more fraught at this moment in history than this.  A common act that, for some, now may be heavy with anxiety, or infused with politics, or mixed with defiance, or filled with pride – or some combination thereof and therein.  To do something that is visible to the public through a window that makes it clear that you are Jewish means something this year other or more than it has in other years.
Chanukah is a fascinating holiday for many reasons.  In large part, the historical story is more of a civil war within Jewish society than a rebellion against a foreign power.  The Maccabees were fighting against (at least) two different strata of Jews – the Hellenizing elite and the acquiescing pietists.  The former were all too willing to assimilate and the latter believed it was only for God to act in the world.  The Maccabees took matters – and the covenant – into their own hands.  They were not content to let the world perfect itself; they understood themselves – and humanity – to be partners in the sacred work of repairing the world.
That's a gross oversimplification, of course, but that idea of striking a balance between not letting the world overwhelm you, and taking appropriate action to perfect it, feels right – if not a bit too aspirational – for our first post-10/7 Chanukah.  Since then, our school, our community and each of us in our own ways have been trying to control the things we can while forgoing what may now feel risky.  But we all very much want to feel like we can do something.
For our school, it has included things like the amazing experience of welcoming new Israeli families in search of safety and joy or the massive participation in Monday's Rally.  For me, personally, it has been taking on a lot more thought-leadership than I typically do in a bit more political vein than I am normally comfortable doing (see below).  People are learning more about Israel, sharing more about Israel, advocating more for Jewish Community and for Israel, and there are lots of stories of folk using this moment to rediscover and reconnect to their Jewish roots.  Like the Maccabbees, through human ingenuity and effort, we are active agents in our own salvation.
As we hopefully come through this crisis in the months ahead, let's hope that by next Chanukah the image of a lit chanukkiah behind a window no longers resonates as a courageous act, but as a simple sharing of our collective joy of the holiday.
Finally, this and each Chanukah, let's not forget our Jewish values of tzedakah (charity) and kehillah (community).   Along with your normal gift-giving, consider donating a night or two of your family's celebration to Israel whose light of courage amplifies and enhances this Holiday of Lights.
Chag urim sameach from my family to yours.


If you haven't read, but would like to, my Op-Ed in the Ottawa Citizen, you are welcome to follow this link.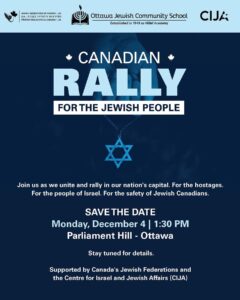 We look forward to safely welcoming you to this year's special OJCS Chanukah Family Program!  Date and time has been communicated directly to parents and we are looking forward to coming together as an OJCS Family…now more than ever.