We're back! 
This has been an amazing Faculty Pre-Planning Week that has us poised for our biggest and best year yet!  Our teachers consist of one group of amazing returning teachers, and another group of talented new teachers, and the combination is magical.  A school is only as good as its teachers, so…OJCS is in good hands, with all arrows pointing up.  Enrollment is still coming in, and I can safely say that we will be a larger school than the year before for the sixth consecutive school year.
Do you ever wonder how we spend this week of preparations while y'all are busy getting your last cottage days or summer trips or rays of sun in?  
I think there is value in our parents (and community) having a sense for the kinds of issues and ideas we explore and work on during our planning week because it foreshadows the year to come.  So as you enjoy those last days on the lake or on the couch, let me paint a little picture of how we are preparing to make 2023-2024 the best year yet.
Here's a curated selection from our activities…
The "Connecting the Dots"  Cafe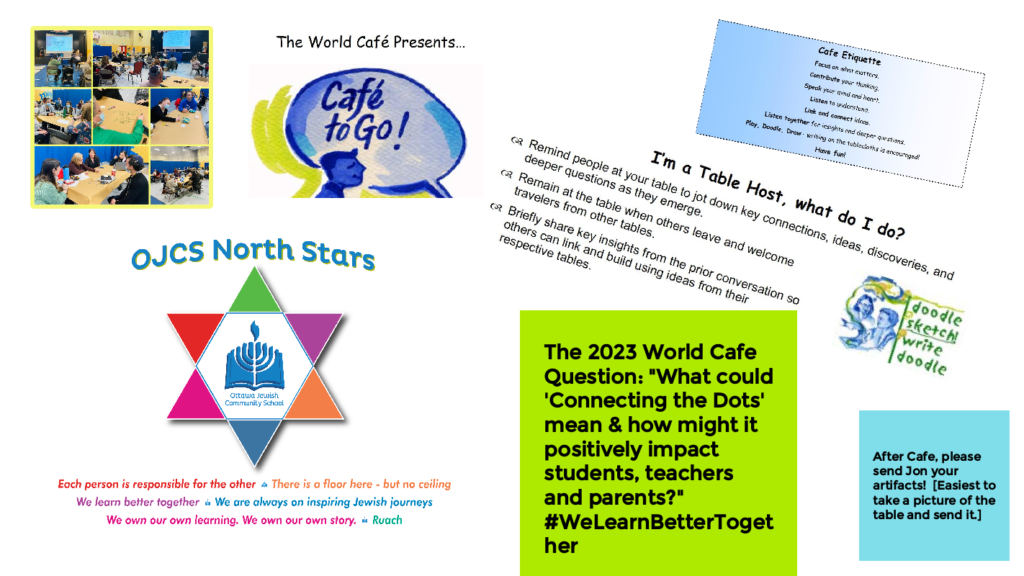 Each year (16 years, 7 at OJCS and counting!), I begin "Pre-Planning Week" with an updated version of the "World Café".  It is a collaborative brainstorming activity centered on a key question.  Each year's question is designed to encapsulate that year's "big idea".  This year's big idea?  Connecting the Dots!
With a growing school with so many departments, languages, programs, etc., in order to make sure our students, teachers and parents are able to experience OJCS as holistic human beings and to benefit from all we have to offer, we will aim this year to forge the connections, break out of the silos, simplify and streamline where appropriate, facilitate the communication and do less even better.
Here's what connected collaboration looks like…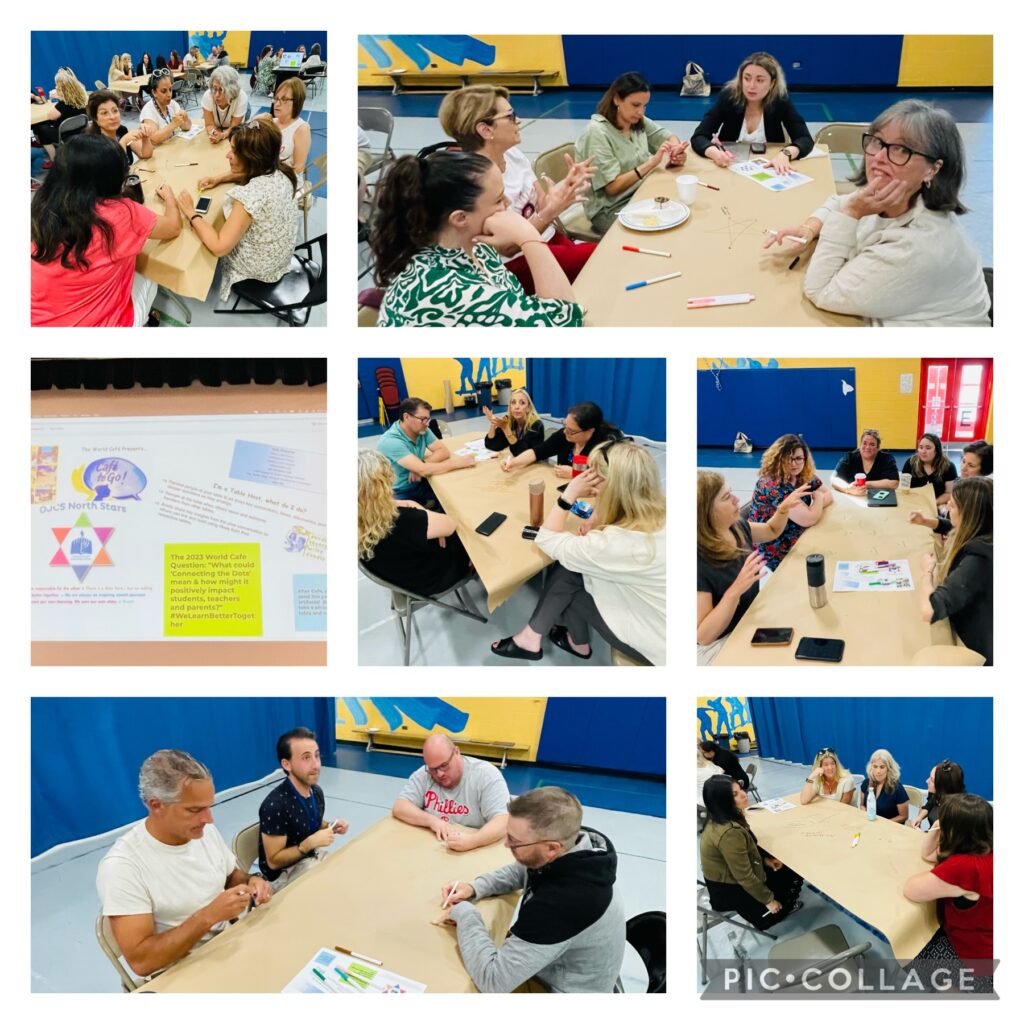 Conscious Leadership
Get used to hearing your children locating themselves "above" or "below the line" as we introduced some key ideas from The 15 Commitments of Conscious Leadership – read this summer by the Admin – to our fuller faculty.  Every now and again we introduce new "frameworks" that provide a shorthand, a vocabulary, and culture that allows our teachers and our students to make sense of themselves and the world.  The big ideas of "Conscious Leadership" are completely anchored in our North Stars, what we believe to be true about children, the way we think and talk about "regulation", and along with those other values and ideas, will continue to professionalize ourselves and upgrade our engagement with parents and students.  Do you want to learn along with us?  Check out the following and see if and how you might apply it to either your professional and/or parenting lives:
Next time you have to have a difficult conversation, just let us know if we are bringing you "below the line" and we can help make that positive "shift".
Connecting the Dots: Behaviour Support @ OJCS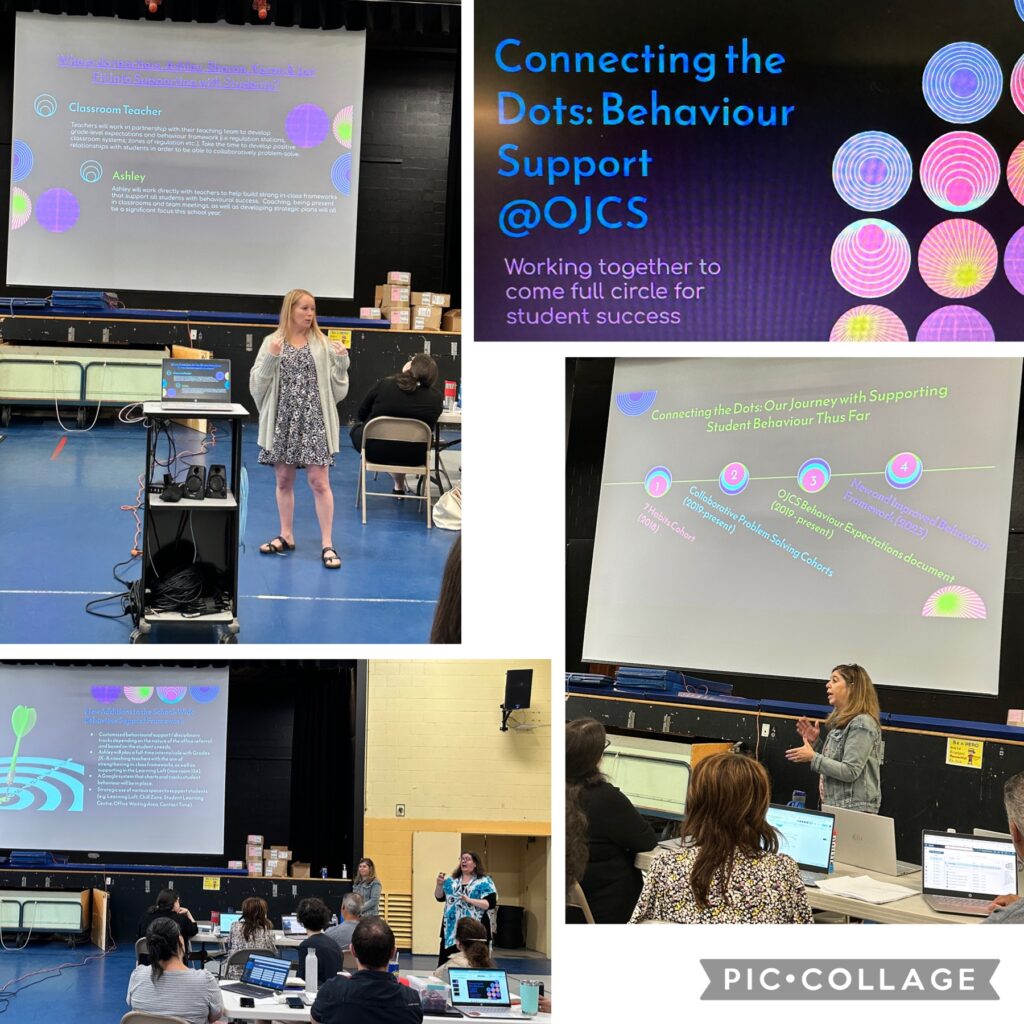 This will be big, the focus of attention at Back to School Night (9/19 @ 7:00 PM), and the subject of its own blog post in the weeks ahead, so please just consider this a "teaser".  But you should also "connect the dots" between what I wrote near the end last year in my post sharing the results of the Annual Parent Survey:
The one metric that I am disappointed to see take a dip down after three straight positive years is the last one, which essentially serves as a proxy for school-wide behavior management.  Four years ago we scored a 6.69 and I stated that, "we are working on launching a new, school-wide behavior management system next year based on the "7 Habits" and anchored in our "North Stars".  I will be surprised if this score doesn't go up next year."  Well, three years ago it came in at 7.65, two years it climbed up to 8.19, and it remained high at 7.85 last year.  6.73 puts at back at square one – even if it rounds into the acceptable range, and even with a small sample size.  Parents at OJCS can expect to see significant attention being paid to overall behavior management in 2023-2024.
"Significant attention" has been and is being paid.  You can see it reflected in staffing and you will see it reflected here.  For now, remember…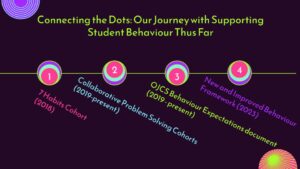 …and know that…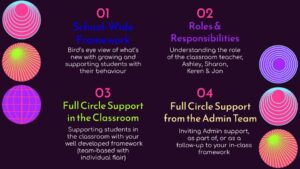 …thanks to the hard work of a lot of people, our new framework is poised to make this our best year yet.  Curious?  Want to know more?  Stay tuned!


Did I do one of my spiritual check-ins on the topic of the "Comfort & Community"?  Sure did!
Did Mrs. Reichstein and Ms. Beswick lead a session on "Bringing the IEP to Life"?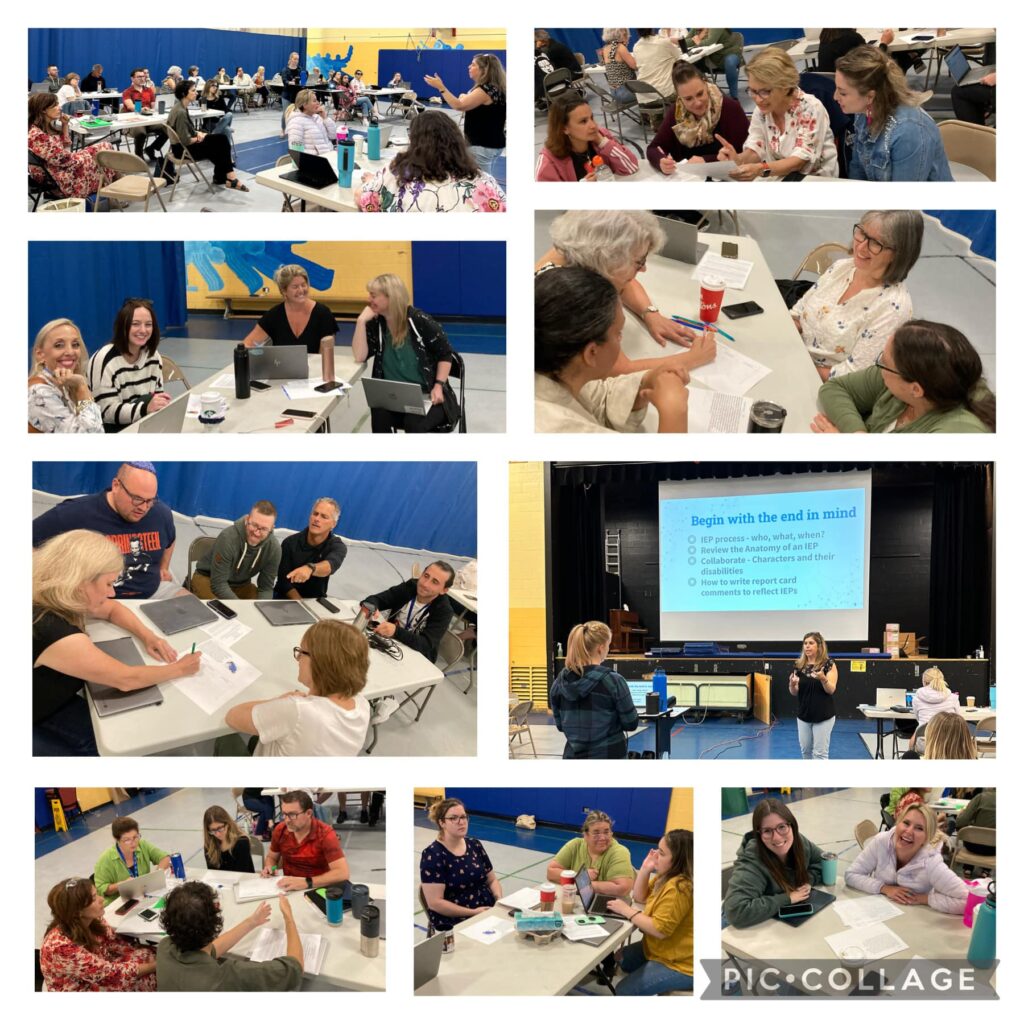 Did Mrs. Bennett, Mr. Max, Mrs. Thompson and I provide differentiated instruction on best practices for Classroom Blogs & Student Blogfolios?  Yessiree!
Did the OJCS Makerspace Team facilitate a hands-on creative session for teachers in the Makerspace now that it is becoming a hub for innovation at OJCS?  (This work is a direct result of an Innovation Capacity Grant from the Jewish Federation of Ottawa!)  Yup!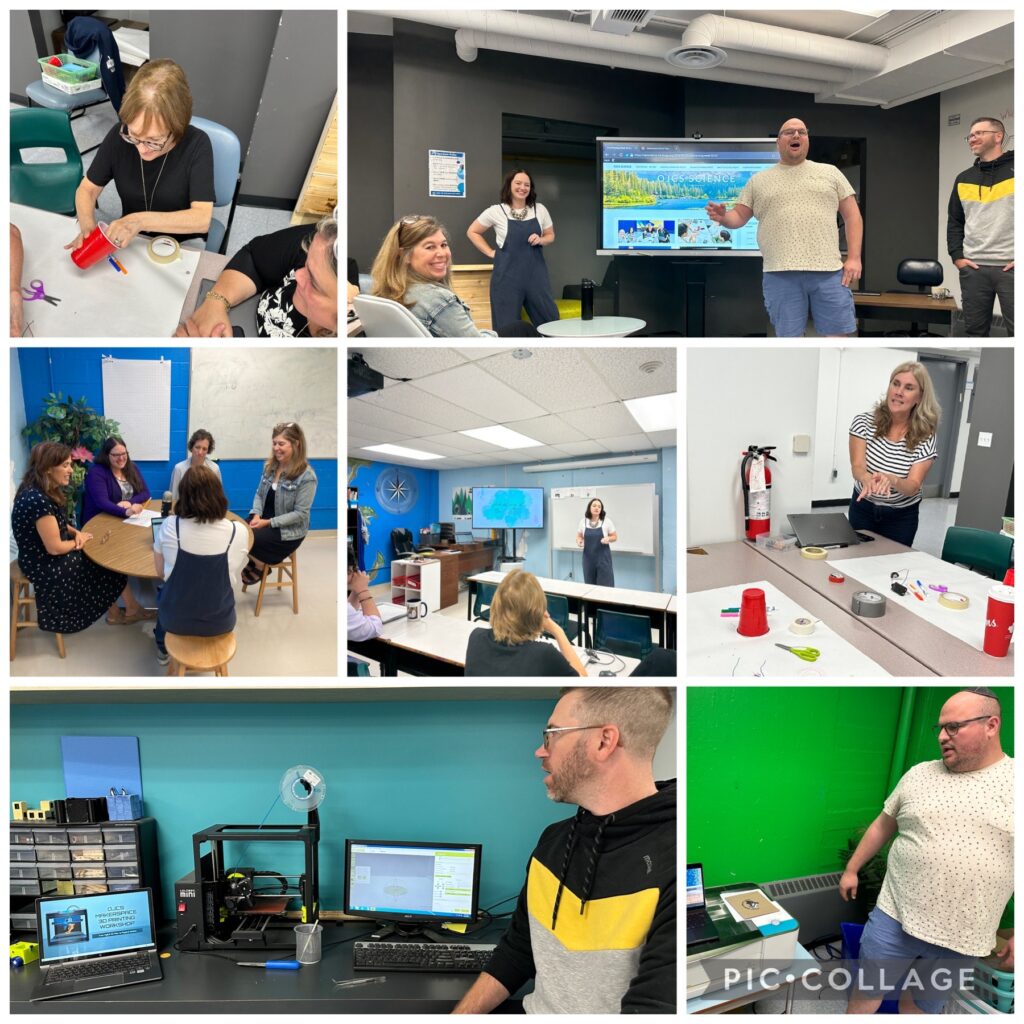 Did Ms. Gordon go over all the guidelines and protocols and procedures and rules and mandates to keep us all in the know?  No doubt!
Did our teachers have lots of time to meet and prepare and collaborate and organize and do all the things needed to open up school on Tuesday?  And then some!
All that and much more took place during this week of planning.  We are prepared to provide a rigorous, creative, innovative, personalized, and ruach-filled learning experience for each and every one of our precious students who we cannot wait to greet in person on the first day of school!
Wishing you and yours a wonderful holiday weekend and a successful launch to the 2023-2024 school year…


BTW – want to hear from our own teachers about who they are and how excited they are for this year?  Introducing our first podcast of the year… Meet the OJCS faculty!  Give our podcast a listen and reply below to let us know what you are most excited about this year!