I promise that I will not be live-blogging each day of the OJCS Distance Learning Program!  But to the degree that it is helpful to document the soft launch – both for us and for fellow travelers – and because it is going to be a bit of "hurry up and wait" for the administration now that virtual classes have begun, I thought it would be good to show a little of what things actually look like.
The spine of our program is the OJCS Blogosphere.  This was in the process of becoming true before the pandemic because of all the things we believe to be true about teaching and learning in the 21st century.  It is really proving its worth now that we have had to transition to distance learning on a dime.  Just a quick look at the screenshot above – or a quick jump on the link – will show you how our teachers have immediately pivoted.  The action is going to take place online; the architecture is anchored in classroom blogs and student blogfolios.
How did Grade 8, for example, start its day?  Glad you asked!
How did our amazing Librarian already begin serving not just our school, but our entire community? #OJCSStoryTime anyone?
How does it look from a parent/student perspective?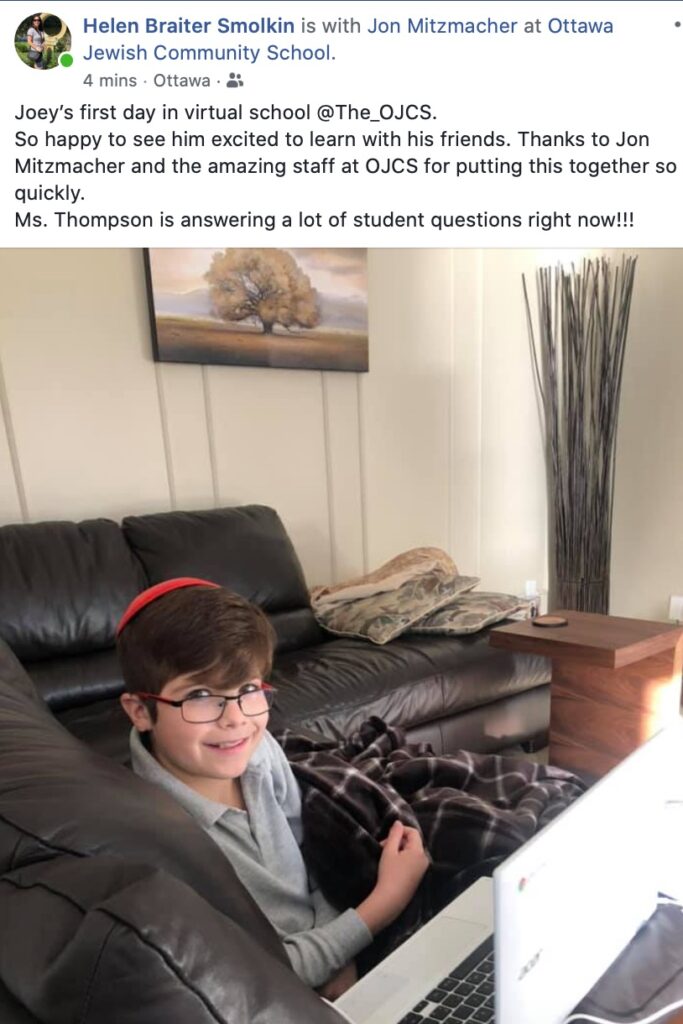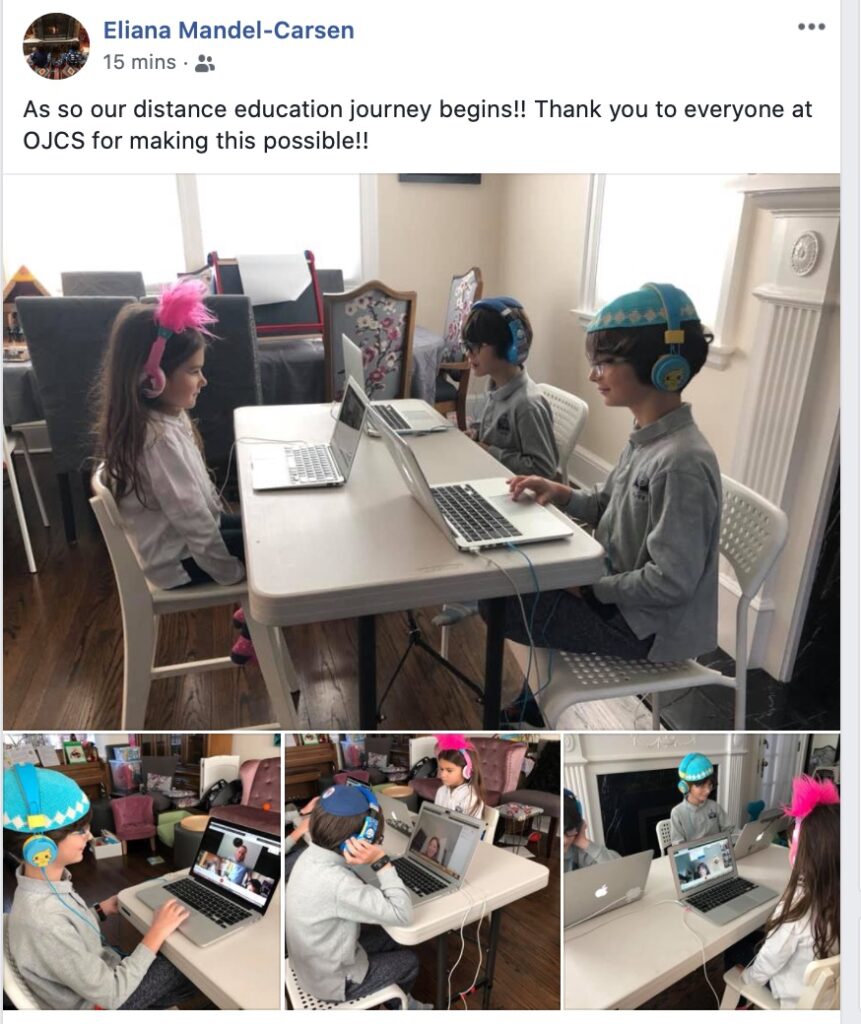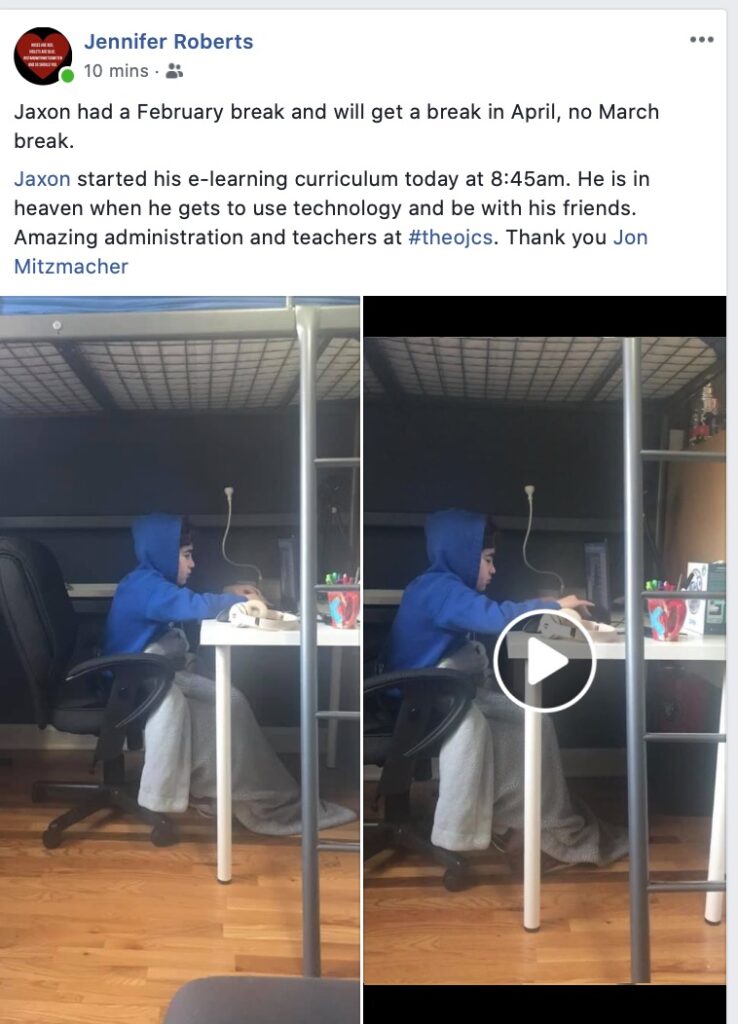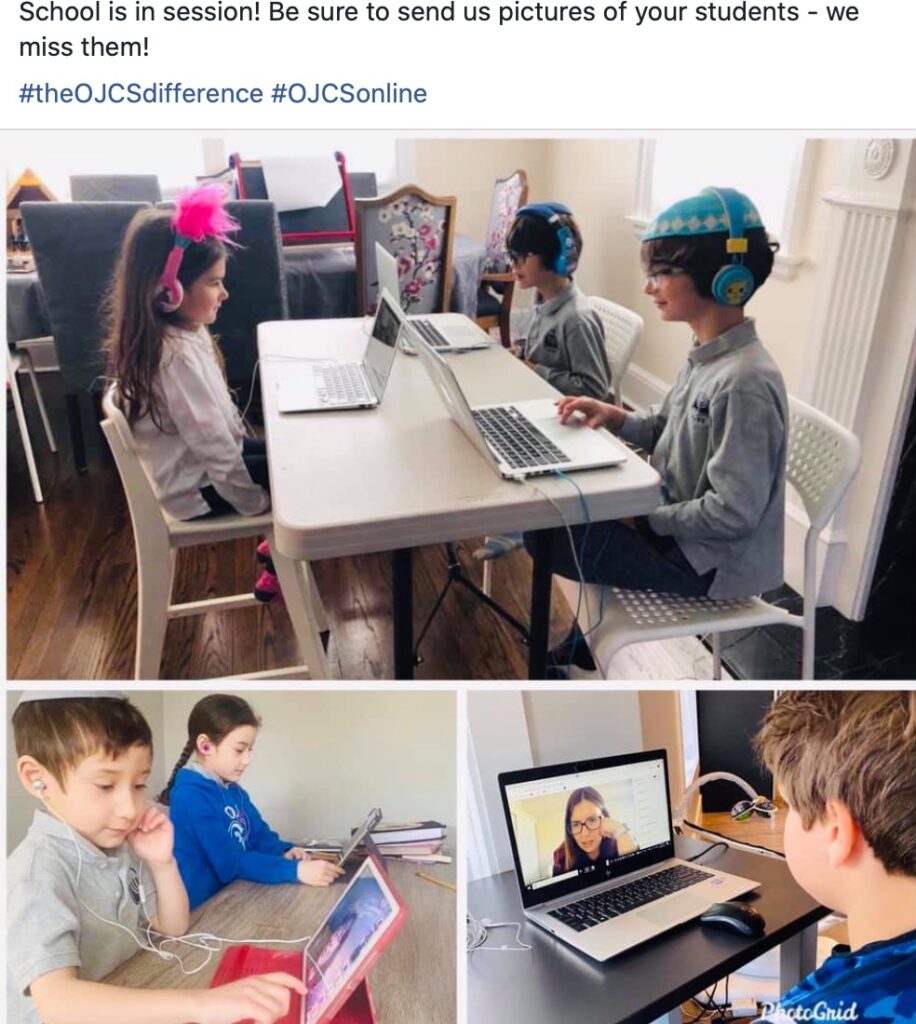 And the sound outside my daughter's "classroom":
You get the idea; these are just from the first hours, more and more are coming as the day begins.  You can see it all on our different social media channels.
What else am I seeing?
I am seeing lots of teachers supporting other teachers.  Sharing live experiences with Google Meet, using internal Google Hangout for quick references, administrators popping in and out of "virtual" classrooms, etc.
I am seeing that in some families the anxiety starting to lift as the unknown becomes known.  But I am not naive enough to believe that this is true for all families.  Our concern and attention is going to move soon from the families and students we are engaged with to the ones we aren't.  That will become more pressing as we move from the soft launch this week to Phase 1 after this week to the ever-more-likely Phase 2 after Passover.
What else is important during this week's soft launch?
Preaching patience!  We chose a soft launch on purpose.  We know that some things are going to work well right away; some things are going to work once we've had enough time to practice; and some things aren't going to work at all and we'll have to adjust.  We are going to use these three days to figure out what belongs in which bucket.
Is Google Meet/Hangout going to ultimately prove successful with its limitations in muting and viewing the whole class?
How will we support students and/or parents for whom this transition proves to be more challenging?
How will we support teachers for whom this transition proves to be more challenging?
Will we need to add structured tutorials to our website/blogosphere on targeted topics (how to use Google Meet, how to submit work through GoogleDocs, etc.)?
How will we continue to live our North Stars?  We can see lots of examples of them already in play, but once the novelty and excitement (and stress and anxiety) wears off and we settle in, will we find opportunities for ruach?  Will we continue being "on inspiring Jewish journeys"?


In just the two hours or so since I opened this blog, I have been following the emails, tweets, Facebook posts, and chats of teachers, parents and students.  I remain in awe of what we have all managed to accomplish here in such a short amount of time.  Let's keep sharing with each other and with the wider world.  Let's keep creating space for mistakes and anxiety.  Let's keep celebrating small victories and minor miracles.  Let's combat the social recession with creative social experiences.  Let's live our school's North Stars and our community's Jewish values in this new virtual reality.
We are definitely taking it one day at a time…but it has been a pretty special day one so far.