After having shofar-ed into Rosh Hashanah and leaned into Yom Kippur, it is time to hop into my favorite holiday of them all…Sukkot!
In this strangest of years with how the holidays fall, we find ourselves with five full days of Sukkot in school!  (The chagim occur on the weekends before and after; Chol Ha'Moed – the Intermediate Days – this year is the entire school week.  We may cook up something special for Hoshannah Rabbah on the Friday.  Stay tuned.)  This will give us ample opportunity to experience this joyous holiday through all the senses.
Our OJCS Sukkah is up and we've added a few satellite sukkot as well to give our growing school enough space to for all the eating, celebrating, shake-shake-shaking and hopping  as a school community that will make up a significant portion of next week.  Great thanks to all our teachers for the hard work that goes into holiday preparation/celebration and keeping the normal routines of school moving forward as per usual.
As I mentioned above, Sukkot is absolutely my favorite holiday of the entire year.  There is nothing else like it on the Jewish Calendar – sitting outside in a sukkah you built yourself (which is pretty much the one and only thing I actually can and do build), with handmade decorations from your children, enjoying good food with friends and family in the night air, the citrusy smell of etrog lingering and mixing with verdant lulav – this is experiential Judaism at its finest.  There is a reason why this holiday is also known as Moadim L'Simchah – the Season of Our Rejoicing.
My annual, completely non-judgy plea for this weekend is a reminder that if our children – if we – only experience the Judaism of Rosh Hashanah and Yom Kippur and not the Judaism of Sukkot, then we are not exposing them – our ourselves – to the full range of beauty and joy that our tradition has to offer.  So why, in fact, is this such a common occurrence?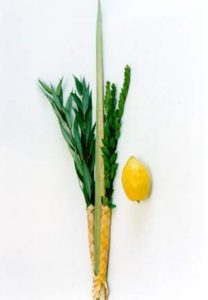 I'm not entirely sure, but I think it has to do with the exotic nature of the holiday.  As someone who did not grow up celebrating this holiday, upon coming to synagogue as an adult and watching a congregation march in circles waving fruits and vegetables – well this was not the Judaism I knew!  But for me, that is precisely what makes it so unique, special and not-to-be-missed!
No one likes to feel uncomfortable, and adults especially, are wary of feeling under-educated or unprepared.  I know how I felt encountering new Jewish rituals for the first time as an adult – it was scary.  The amount of "stuff" Judaism asks of us to do – building the sukkah with precise specifications, shaking the lulav and etrog in the proscribed way, chanting less-familiar prayers, coming to synagogue on unfamiliar days – can be overwhelming.
But don't lose the sukkah through the trees…
If the idea of building a sukkah is either overwhelming or unrealistic at this time, in the spirit of trying to turn etrogs into etrog-ade, let me invite you to think of this year as an opportunity to once again pick one new tradition to experiment with.  Shake a lulav and etrog.  Eat in the sukkah (or in something sukkah-adjacent).  Attend or livestream a service.  Ask your child(ren)'s Jewish Studies Teacher(s) to send home stories, questions, or ideas.  Come use the OJCS Sukkah.  Come borrow OJCS lulav and etrogs.
How can I help?  What can I do?  These are actual questions – email me and it would be greatest pleasure.  My sukkah doors are open as well.  Literally, be my guest.  Let this Sukkot truly be the season of our great rejoicing.  I hope many students find their way to synagogue and into sukkot this Sukkot.  I hope many parents push themselves out of their comfort zones and join the fun.  But most importantly, I hope we – OJCS – are up to the task of educating, inspiring and working in partnership with our families so that those who wish to, are able to add Sukkot as a next stop on their Jewish journeys (#NorthStar).
Chag sameach!


There is a concept in Judaism called hiddur mitzvah which is the "beautification of the mitzvah" and it calls upon us to think of ways to go that little extra mile to make a mitzvah extra-special.  There is no better holiday for this concept than Sukkot!  Here are two ways you can amplify your Sukkot celebrations this year:
For the musically inclined, please enjoy this Sukkot Playlist courtesy of our friends at PJ Library:
For the fermentedly inclined, please enjoy this recipe for making homemade etrog liqueur…
…and for the inebriated-ly inclined, please enjoy this link to the many artisanal etrog cocktails you may enjoy.