Believe it or not, as we sit here in the midst of the Jewish holiday rollercoaster this season brings, we have schools who are now counting weeks, not months, of the remaining school year!  As with our schools, so is true of our network.  Except with summer comes not an end, but the beginning of a new chapter in a NewOrg.  While we look forward to exciting updates about the field, we definitely want to keep the focus on schools.  So…let's take another opportunity to "shine the spotlight" on Schechter schools!
As a reminder…
…each of our schools was asked to share in their own words examples of programs and initiatives of what they think makes their school unique, special, excellent, and innovative. We promised to batch and share out as they came in.  The first volume was published in early March and the second a few weeks later .  It is my pleasure now to introduce you to three more of our amazing schools…

Name of School: Kadima Day School (West Hills, CA)
Area of Strength/Passion/Specialty: Differentiated Hebrew Program
Brief Description of Current Work/Projects: Kadima's Hebrew program is designed to meet the variety ability levels of our students.  Currently the school offers advanced and grade level courses throughout the elementary, in addition to ulpan as necessary.  In the middle school, the program is able to differentiate even move by combining learners from a variety of grade levels.
Links to Photos/Articles/Videos of Current Work/Projects: 5th Grade Student Weather Report – Click Here & Click Here – Video 2
Area of Strength/Passion/Specialty: Character Education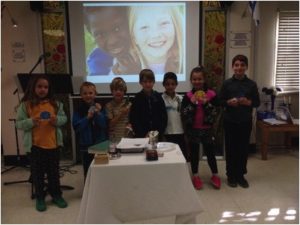 Brief Description of Current Work/Projects: Kadima Day School is committed to helping our students navigate through both the social and academic journeys of elementary school. Our emphasis on character education is rooted in our mission, helping students build an identity that is based on core Judaic values.  Each grade will tackle the foundations of character develop and grow in their understanding of "The Kadima Way."
In order to create a cohesive program, the school has identified the following components to be implemented on an annual basis:
Value of the Month

Visual Cues to help students self monitor (posters in classrooms / hallways)

Grade Level Mitzvah Projects

Rosh Hodesh Mitzvah Award – monthly award teacher to student

Name of School: Perelman Jewish Day School (Melrose Park/Wynnewood, PA)
Area of Strength/Passion/Specialty: STEAM
Brief Description of Current Work/Projects: Perelman's inquiry-based learning fosters critical thinking skills and empowers students to wrestle with complex issues using traditional texts and new technologies.  We teach an authentic Jewish legacy while preparing students to compete in the digital age.  This educational approach establishes a superior intellectual and emotional foundation for future education – and for life.
Our STEAM program connects individual disciplines as access points for guiding students to take thoughtful risks, engage in experiential learning, persist in problem solving, innovate and create.  
Fifth graders are engineers, working in teams to build a boat and bridge using a standard set of materials.  Fourth graders are entrepreneurs, developing their own business plans with advice from students at the Wharton School of Business at University of Pennsylvania.  All levels experiment with coding and learn to create their own QR codes. Students become experts on a particular system of the human body, presenting its function to their peers and a team of doctors, defending why it's essential to our survival. They integrate science with language arts and research skills in a non-fiction reading unit about biomes.  Art education is also integrated into science, as students learn about the solar system by studying an atmospheric phenomenon called the Aurora Borealis – Northern Lights – a fantastic light show in the night skies when solar energy erupts from the surface of the sun.
In the coming weeks Perelman will open an even more innovative classroom, one where kids will be writing on the white-board wall, posting sticky notes, thinking, designing and building.  This will occur in our new MakerSpaces, where diversity and cross-pollination of activities are critical to the design. These innovation labs will accommodate a wide range of activities, tools and materials, and provide hands-on, creative ways to encourage students to design, experiment, build and invent, as they deeply engage in science, engineering and tinkering.
Our curriculum empowers teachers to take risks so that they too become agents of change. The silos of teaching and learning are interdependent as our students speak up, own their learning, ask questions and design the future.

Name of School: Academies at Gerrard Berman Day School (Oakland, NJ)
Area of Strength/Passion/Specialty: STEAM
Brief Description of Current Work/Projects: September 2015 marked the launch of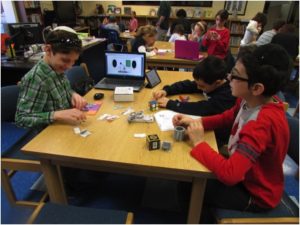 the GBDS Science Academy, with the goal of employing hands-on , inquiry and project-based learning and experiments at all grade levels.  This innovative curriculum integrates the Next Generation Science Standards, the Engineering Design Process, and environmental awareness.  A partnership with PicoTurbine/STEAM Rocks! has led to 3D design enrichment programs during school breaks.
Some notable examples of student projects are:
Building drawbots using small hobby motors and legs made using markers

Utilizing squishy circuits to make "hamantaschen" for Purim, with filling lit up with LEDs

Testing water quality of streams in the 40 acre Great Oak park adjacent to the school

Investigating cell growth in different conditions through guided inquiry

Building Rube Goldberg machines

Employing an earthquake shake table to test building codes

Designing and testing parachutes (with action figures not people!)

Participating in NJ Makers Day
Area of Strength/Passion/Specialty: Leadership & Environmentalism
Brief Description of Current Work/Projects: The Academies at GBDS is proudly
the only Leader In Me Jewish Day School in NJ. Based on the 7 Habits of Highly Effective People, our Leadership Academy gives our students the 21st century skills needed for both professional and personal success. Several new initiatives have developed as a result of adopting the Leader in Me culture: the Middle School students created a Wax Museum exhibit called "Through the Eyes of a Leader," and this year's theme for the school play is "Robin Hood and the Leader in Me." Additionally, at the end of the 2015-2016 school year, a premiere Leadership Day will celebrate our many successes. Please visit our school's Leader in Me Blog for updates about how our school thrives using "The 7 Habits".
The Academies at GBDS is committed to promoting practices that make the school more environmentally conscious and sharing those practices with the community. A school-wide recycling initiative, through our partnership with TerraCycle and Preserve Products,  is bringing the school closer to the goal of sending zero-waste to landfills.  This initiative was launched by constructing a large permanent mural,  using plastic waste diverted from the cafeteria waste stream,which is displayed in our multi-purpose room.
This year, inspired by the Leader in Me,  the Middle School students are planning, building, and maintaining a greenhouse and garden, thanks to a grant from Project Learning Tree. The 6th, 7th, and 8th grade students are in charge of all aspects of the project, including designing and building the raised bed gardens, and selecting, planting, and maintaining the gardens. The students will also design and print hydroponic gardening equipment using the 3D design program TinkerCad, eventually leading to year round gardening.