My last few blog posts have been long and heavy…so, let's switch gears.
Readers of this blog know a few things…
…I will make bad puns.
…I will take 200 words to say something better said in 20.
…I will use a complicated word to say something better said simply.
…I love ellipses.
…I will worry aloud that only my mother and the people she shares with on Facebook read my blog.
…I will insert a punny Spotify playlist.
…and
…I love word clouds.
If you are unfamiliar with the idea, in a nutshell, word clouds (through an algorithm only they know) takes any piece of written text and represents it graphically in a way which highlights frequently-used words.  It is a fantastic device for visually summarizing the essence of a written text.  Another great feature is that, not only can you cut-and-paste in any written document, you can type in blogs, websites, etc., and it will go back and search them for content, add it all up, and spit out a word cloud representing the sum of all its written content.
For many years, I have used word clouds to visually summarize the content of this blog and compare it to years past in order to reflect on whether I am living up to its goals.
I will have to wait a bit longer to do a comparison on how things evolve here at OJCS, but even a quick glance at the current state of things is illuminating.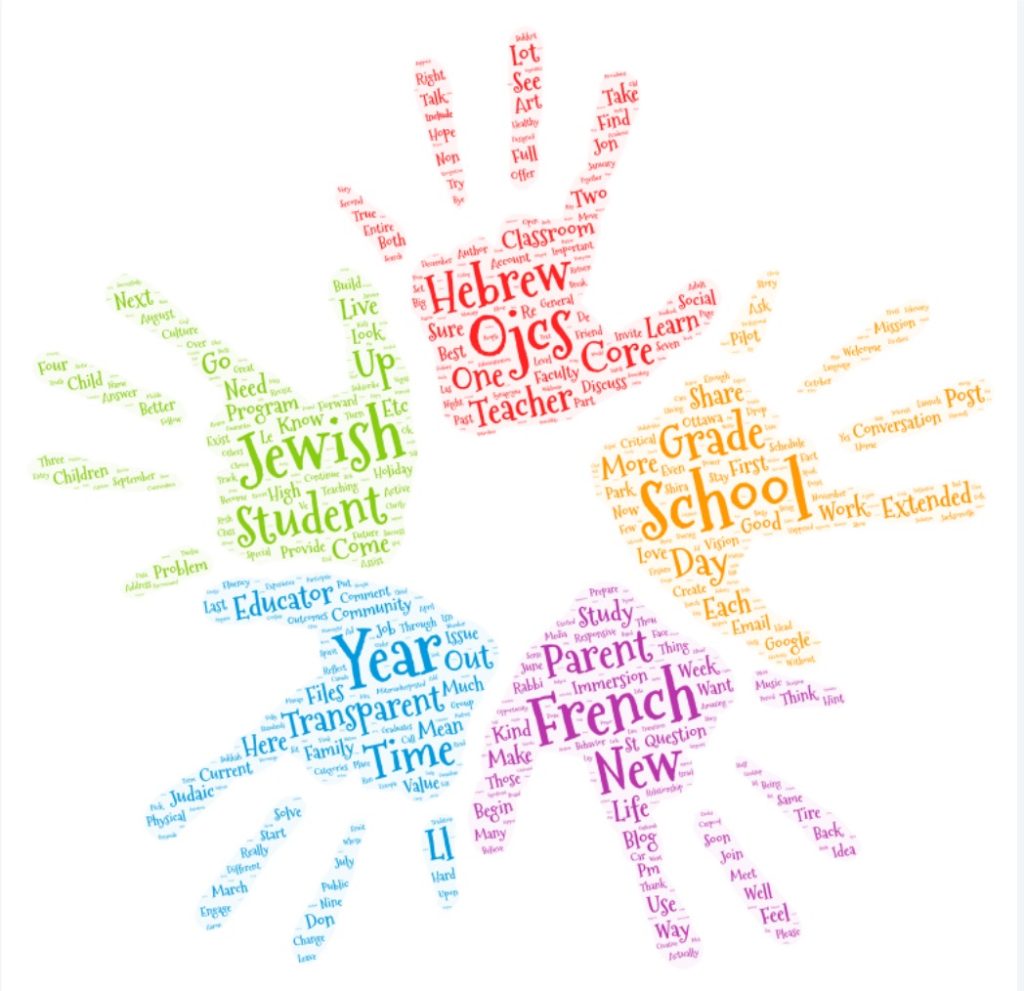 It is definitely not perfect, but it hits many of the high notes.  The two most important mission/vision issues under exploration?  Jewish mission/vision and French outcomes.   The most important paradigm shift?  Transparency. Digging deeper, you can see interesting patterns in what we are emphasizing (time, new, share, etc.) or what might be missing (innovation, technology, personalization, etc.).  Either way it really gets you thinking…
If you see something interesting in the OJCS word cloud..let us know in the comments!


Quick Pedagogy Epilogue:
Who is using word clouds in their schools, classrooms or organizations?  You can check classroom blogs, school websites, the Torah, your mission statement, a behavioral code of conduct and so on.
How fun!
So…let's word cloud up!  Find a text that is meaningful to you, create a word cloud, and find a way to share it.  If I can write a post with less than 400 words, you can do it!