If you have read, or are at least familiar with, my blog, you know that for years and years, I push out a pre-Sukkot plea for families to treat the joy of Sukkot with the same degree of intentionality as they tend to do for the solemnity of Yom Kippur.  Part of why these posts (click here and here for recent examples), tend to be so cookie-cuttered is that I don't know how else to formulate either the question or the answer.  And so maybe that's on me.  Perhaps it is my failure of imagination that is preventing me from either better identifying the core issue or better deriving a meaningful response.  I'm open to that.  But as I sit here, coming out of Yom Kippur and preparing for Sukkot, I am uneasy.  I don't know how else to approach the matter that doesn't leave me tilting at windmills or spitting into the wind.  One thought that I am left with, that I will attempt to name here, is that perhaps it isn't the content of the message that fails to land, but the tone.
I am not a rabbi (at least not yet!) and (, regardless,) the school is not my pulpit.  That doesn't mean that I am unwilling or unable to say hard things when necessary.  But, perhaps, it does mean that my "bully pulpit" requires me to stay in what is more reasonably understood to be "my lane" – and that how a family chooses to celebrate (or not) Jewish holidays is not it.  Maybe.  I'd prefer to split the baby a bit and suggest that as a Jewish day school with "Inspiring Jewish Journeys" as a North Star, that the subject is appropriate.  But, equally true, is that I have a responsibility to deliver a message less preachy.  So.  In that spirit, let me make a positive, non-judgemental pitch for making room for Sukkot in your cycle of Jewish celebrations.
On the school side of things, we are definitely looking forward to celebrating Sukkot at school with the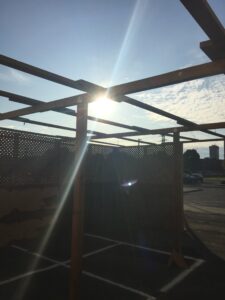 assistance of our OJCS Sukkah [to be finished this week] (with great thanks to the Zaret Family & Gemstone), in which we look forward to eating, celebrating, shake-shake-shaking and hopping in as a school community when we resume school during Chol Ha'Moed next Wednesday.  Great thanks to all our teachers for the hard work that goes into holiday preparation/celebration and keeping the normal routines of school moving forward as per usual.
But what about the two days of school we are closed?  [I'll share some corresponding thoughts about the next two days we are closed next week.]
If the idea of building a sukkah is either overwhelming or unrealistic at this time, in the spirit of trying to turn etrogs into etrog-ade, let me invite you to think of this year as an opportunity to pick one new tradition to experiment with.  Shake a lulav and etrog.  Eat in the sukkah (or in something sukkah-adjacent).  Attend or livestream a service.  Ask your child(ren)'s Jewish Studies Teacher(s) to send home.  Come use the OJCS Sukkah.  Come borrow OJCS lulav and etrogs.
How can I help?  What can I do?  These are actual questions – email me and it would be greatest pleasure.  My sukkah doors are open as well.  Literally, be my guest.  If our children – if we – only experience the Judaism of Rosh Hashanah and Yom Kippur and not the Judaism of Sukkot, the simple truth is that we are not exposing them to the full range of beauty and joy that our tradition has to offer.  Let this Sukkot truly be the season of our great rejoicing.  I hope many students find their way to synagogue and into sukkot this Sukkot.  I hope many parents push themselves out of their comfort zones and join the fun.  But most importantly, I hope we – OJCS – is up to the task of educating, inspiring and working in partnership with our families so that those who wish to, are able to add Sukkot as a next stop on their Jewish journeys.
Chag sameach!


By the way, speaking of trying to be "non-judgy", I don't want to assume that the many families who already celebrate Sukkot – in whatever ways – aren't also worthy of our school's partnership!  Many, many OJCS families will be in synagogue and sukkot and, of course, if there are ways that our school can work in partnership to amplify their Sukkot experiences, we should be equally focused and desirous of being called-upon for them as well.  If you are in this camp, I ask you, too, to let us know how we can be a better partner for your family, if not for next week then in future years.