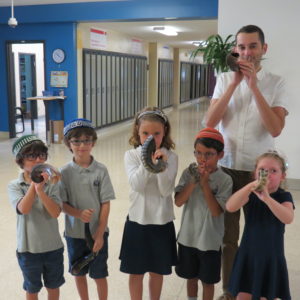 The holidays start so early this year that I can barely squeeze in my favorite pun! With only four school days before Rosh HaShanah, we are doing our very best to get into the holiday spirit.  Our "Shofar Patrol" has been making the rounds, apples are being cut, and honey is being poured.  Let me take a moment to congratulate all our new teachers and all our new parents on a wonderful first week of school.  Your enthusiasm and your passion are welcome additions to our growing school and inspire our hopes not only for this year, but for the years to come here at the Ottawa Jewish Community School.
During our opening assembly, we talked as a school not only about the new colors and photos on the walls, but about the 18 new signs – 6 in Hebrew, 6 in French and 6 in English – that reflect what we now describe as "The OJCS Way".  These are the "north stars" that came out of the work we did last year – the core values that help describe what is unique about our school.  We shared these values in a "Town Hall" last spring and they are described in greater detail in your OJCS Handbook.  We are excited to begin living those values and seeing how they impact culture and innovation in our school and community.  I also want to use them as a frame to discuss a few live issues we know are percolating…
"We learn better together."
Those of you who are new to our school and to me, will learn that I embrace radical transparency.  I believe it is important to be authentic, honest, open to feedback and willing to lean into difficult conversations – all traits we believe worth modeling for our children. We have nothing to hide in our school and our parents are our partners. One of our north stars is that "we learn better together". There are lots of "we's" in our school – students with students, students with teachers, teachers with teachers, etc. – but parents are also part of the "we".  Working together we can resolve almost any issue and adequately address any concern.
"Each person is responsible each to the other."
I looked back to my blog a year ago and the number one issue facing our school was…our change to drop-off procedures!  It is hard to recall just how much bandwidth this took up, but it was significant.  There are a few lessons to be learned there…
We take the safety of our children as our highest concern.  The reason we invested so much energy last year in changing our drop-off procedures is that we wanted to ensure that the parking lot was controlled and safe.  We were so committed to it – and still are – that our entire administrative team commits itself each and every morning to being there.  (And we also think greeting our students each morning is the best way to start the day!)  It took a while for families to learn the ropes – and we have the emails to prove it!  But sooner than later, we got into a rhythm and now we have a safe and efficient drop-off.
It is deja vu all over again now that we have turned our attention to pick-up.  The issues are similar – we really want to make sure in a complicated world that each child finds his or her way to the right parent, carpool, bus or caregiver.  We also want to make sure students don't wander into the parking lot or off campus without anyone noticing – things that could have happened here as a consequence of simply opening the doors and letting our entire school pour out.  There are minimal and maximal ways we could address this issue.  Lean too much to one side and you have greater convenience and less safety; lean too much to the other and you have greater safety and less convenience.  We are trying to find a middle path.
We invite your patience and appreciate your flexibility as we adjust to this new way of ending our day.  We firmly believe that sooner than later we will get into this rhythm as well, and we will add a safe and efficient pick-up to our safe and efficient drop-off.
"There's a floor here – but no ceiling."
This may seem like an odd place to anchor a conversation about snack and recess – which is the hot topic of the week – but it is actually where it lives.  The promise we make parents at the time of enrollment, not just at the beginning, but each and every year as we never take re-enrollment for granted, is that we have an appropriately rigorous floor for each student, but no ceiling of expectation for how far their passion and talent can fly.  That is why we are moving towards personalized learning, investing in innovation consultants, reimagining our schedules, introducing new technologies, playing with our space, etc., etc., all in the service of providing the highest-quality education possible.
We spent an enormous amount of time last year collecting data from alumni, former students and families, current students and families, the schools our children graduate into as we grappled with three really important conversations: What needs to be true about our French outcomes?  What needs to be clear about our Jewish expectations?  What is unique about teaching and learning at OJCS?  The answers to those questions were transparently shared out in Town Halls about French, Jewish Studies, and "The Future".  And part of those answers required a re-imagination of our schedule, because time is a zero-sum game. And the reason we shared it so openly then was that we knew it would invite questions and we were happy to answer them then…and we remain happy to revisit them now that we are beginning to live them.
I want to focus here on the Lower School (K-5).  Up until this year, our Lower School had been functioning on a Middle School schedule – bells every 40 minutes dictating artificial changes that don't suit the needs of younger students.  We wanted to move towards a larger block schedule that gives students and teachers the breathing room they need to let the learning flow at a more relaxed pace or to extend the learning where enthusiasm takes it.  So we have made that change.  It isn't perfect (yet).  Some grades were easier than others due to personnel needs, but we are closer to where we want to be than where we were.
In Grades 1-5, in order to increase contact time in French and Jewish Studies – a need that came out loud and clear from our research last year – we are being more creative with the 50-minute block that was given to snack and recess each morning (a little over an hour after their arrival).  There has been no decrease in recess or physical activity.  (It has actually gone up with an added period of Physical Education.) What has changed – and where we are seeing the most questions and concern early on – is the nature of snack.  Our desire to provide our students with the nutrition they require remains intact.  Our willingness to provide our students with the time they require for snack has not changed.  What has changed – and where we have growing pains to work through – is that the time being given over to snack comes with a little bit of learning.
This will look and feel different in Grade One than it will in Grade Five. It will look and feel different in Week One than it will in Week Thirty. And the flexibility and autonomy our teachers have (now) allow them to make daily adjustments as per the needs of the children.  If some days the snack needs to come with little to no learning…that's okay!  If some days the recess needs to be longer…that's okay!  Another one of our "north stars" is that "we own our own learning" – and our teachers and students have full ownership of what needs to be true on a daily basis.  They are not being micromanaged by the administration.  That's the real change to pay attention to – that we aren't letting the bell dictate when learning begins or ends, or whether students can eat or not, or whether students get a body break or not – we are letting our teachers and students begin to take ownership of their learning since they know best what they need and when.
This is so new for us!  And for you.  It is natural that you have questions and concerns.  We welcome them directly.  We are having the same conversation with our teachers who also want to make sure that students have time to eat and time to play…and time to learn.  A number of parents have asked whether it would have been smarter to simply increase the length of the school day.  Believe me, I would love a longer day to work with and perhaps that's a conversation we should be having.  But please don't think that aren't carefully considering the wellbeing – mental or physical – of our children.  We know the research on movement and on nutrition.  We believe our teachers – working with their students and with you – will discover what is best for each class and that we will land in a place that feels comfortable for all.
"We are all on inspiring Jewish journeys."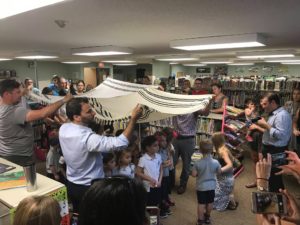 One of the highlights of the first week was our inaugural "Welcome Ceremony" for Kindergarten students and parents.  Tears were shed as we took just a pause to name the liminal moment a child begins his or her formal Jewish learning.  To see them all under the tallitot surrounded by parents as our teachers shared a poem in Hebrew, French and English, and as Rabbi Finkelstein led a parental blessing before a final farewell, was to see the beginning not just of a family journey at OJCS, but – we hope – "an inspiring Jewish journey" leading…wherever it leads.  It was also a reminder of the sacred trust a family places in us for the education of their children and the holiness of such work.  A truly special way to begin the year…
"Ruach"
We added ruach (spirit or joy) as a "north star" not just because we needed six to make sure our "north star" was a "north Star of David", but because we know how important ruach is in the life of a school.  We want our students and teachers to feel the joy of learning and the love of community.  We want each person to feel that special feeling when he or she can be their truest self and know that they will be heard and respected and loved.  That's a lofty ambition, but one worth reaching towards.  It is why we are so excited about next week's Middle School Retreat at Camp B'nai Brith of Ottawa (CBB).  It is why we are looking for greater parent engagement in our PTA and in our school.  It is why we created cafeteria space to eat and to sing together instead being siloed into classrooms.  It is why we raised money to install air conditioning in our hottest classrooms so our students can learn in comfort and not distress (with more to come).  It is why we are increasing field trip opportunities, adding electives to Middle School, and constantly re-imagining what we do and how we do it.  It is why we get up in the morning each and every day with a fire in our bellies and a smile upon our lips.
Research shows that one of the most important variables to academic success is teacher joy – when teachers are excited to teach, students are excited to learn.  And when students are excited to learn, anything is possible.  That's the future we are building at the Ottawa Jewish Community School.  That's why we are willing to make changes, even when those changes are hard and sometimes even when those changes fail.  We will never let fear of failure prevent us from reaching towards those (north) stars, because we'll never get there if we don't try.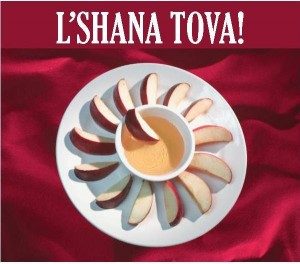 As the eve of a new Jewish Year approaches, it is my most sincerest hope that this is the year we've been waiting for.  To all the teachers, staff, parents, students, donors, supporters, and friends in this special school- thank you for your enthusiasm and your hard work.  5779 is shaping up to be a quite an amazing year!
From our family to yours, "Shanah tovah!"