With all the "seconds" we are experiencing this spring during our current distance learning pivot, celebrating Teacher Appreciation Week has been among the most appropriate and depressing.  Depressing because instead of being able to directly hand our tokens of appreciation to our teachers and to take moments to directly express our thanks and to celebrate all that they do and all of who they are, we've had to again resort to gift cards and home deliveries and video tributes (thanks to all of you who took the time to offer your own!).  Appropriate, because nothing fosters appreciation for teachers like getting a birds-eye view from the vantage of distance learning…
As much as we would all like to know what is coming next – when will this lockdown end and when will we be permitted to return to in-person learning – today marked the end of Teacher Appreciation Week.  How did we spend it?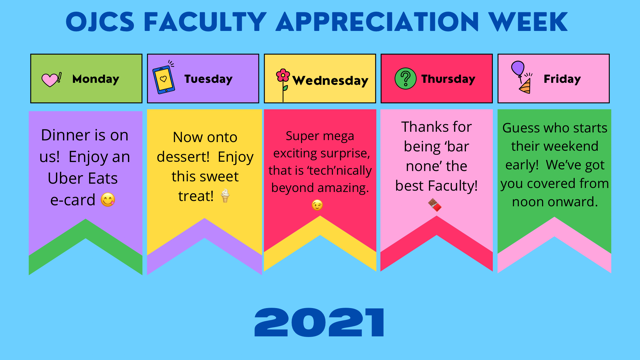 Have you taken an opportunity to show appreciation for your child(ren)'s teacher(s) yet this week?  Don't worry if you haven't…it is never too late!
Pump up this great "Teacher Appreciation Week" playlist, pick an item from below (aggregated from lots of blog posts) and make a teacher's day:
A personalized note or email
A homemade craft
Caffeine
A hot meal
Gift cards
Plants
A personalized thank-you sign
Small treasures
Something special that reminds a teacher of his/her student(s)
Alcohol (but check first!)
Show up for school!
Spa treatment
Experiential gifts (like a remote yoga or dance class)
Donations to a dream project
Year-Round Advocacy
My personal suggestion?  Absolutely send gift cards and post creatively on social media.  Buy ads in yearbooks, post lawns signs and lead parades.  Do any and all of the above list.  Express your appreciation for all the things your child(ren)'s teacher(s) have done to make hyflex and distance learning as successful as it has been.  Please.
But let's also try assuming the best of our teachers – even when they have difficult truths to share.  Give them the benefit of the doubt – even when they don't communicate as well as they could.  Treat them as partners – even when they make mistakes.  Let's not simply tell our teachers that we appreciate them; let's actually appreciate them.


I look forward to sharing results from the Annual Parent Survey next week.  If you have NOT yet contributed and you want your results included, please fill yours out by Monday, May 10th.  Please and thank you!