Ah yes, here we are in mid-November.  We had our first super mild snowfall, the days are growing shorter and colder, my FOMO for American Thanksgiving is ramping up and my seasonal affective disorder lamp is shining that sweet, sweet Vitamin D in my direction.  That can mean only one thing – time to dust off the annual BlogCloud post!  (It is also true that if you are going to write 400 weekly posts and counting, you need to have some standard-issue content to fall back upon.)
If you missed last year's punny post…
I genuinely do enjoy this annual exercise in "word-clouding".  If you are unfamiliar with the idea, in a nutshell, word clouds (through an algorithm only they know) take any piece of written text and represents it graphically in a way which highlights frequently-used words.  It is a fantastic device for visually summarizing the essence of a written text.  Another great feature is that, not only can you cut-and-paste in any written document, you can type in blogs, websites, etc., and it will go back and search them for content, add it all up, and spit out a word cloud representing the sum of all its written content.
This is my fifth such annual post here at OJCS and I have done them each, as stated above, in November.  So, what does this year's BlogCloud look like and what does it reveal?  [If it is too small on your screen/device you can go ahead and zoom in.  Or just scroll up!]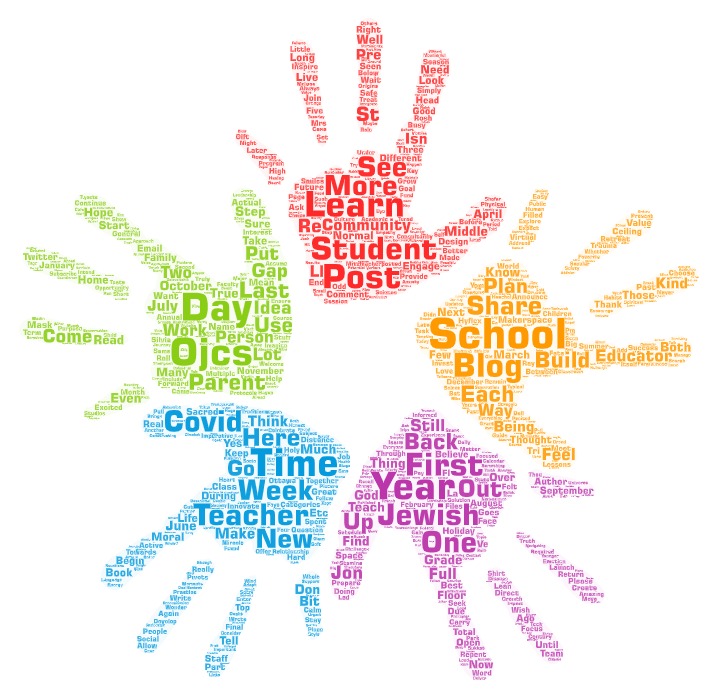 I just put last and this years' clouds side-by-side to do a little comparison.
"Jewish", "Teacher" and "Student" still hold strong at about the same size, and even if "Parent" is still smaller, it is proportionately larger than last year.  That would lend credence to my conclusion that the increase in parent emails due to COVID explains "Parent"'s waxing and waning.  Interestingly, although "Learning" and "Time" remain strong, "Community" is much smaller than in prior years.  I wonder if that is a casualty of COVID, in that we have many less opportunities to gather as and to function as a full community.  I take it is a warning and a reminder that we start to more fully occupy this "late COVID" or "post COVID" space, that one thing that has not yet snapped back is our emphasis on community.  (The fact that "COVID" is a bit smaller this year makes me so happy!)  Mission accepted!
What words would you have expected to see?  What words are you disappointed to see?
If you see something interesting in my OJCS BlogCloud, let me know in the comments!