It has all the makings.  It is mid-November.  It snowed for the first time.  American Thanksgiving is growing closer.  For whatever reason, this has become the sweet spot for one of my favorite little blog posts…running my blog through a "word cloud" program and seeing what happens!
If you missed last year's punny post…
I genuinely do enjoy this annual exercise in "word-clouding".  If you are unfamiliar with the idea, in a nutshell, word clouds (through an algorithm only they know) take any piece of written text and represents it graphically in a way which highlights frequently-used words.  It is a fantastic device for visually summarizing the essence of a written text.  Another great feature is that, not only can you cut-and-paste in any written document, you can type in blogs, websites, etc., and it will go back and search them for content, add it all up, and spit out a word cloud representing the sum of all its written content.
This is my sixth such annual post here at OJCS and I have done them each, as stated above, in November.  So, what does this year's "blog cloud" look like and what does it reveal?  [If it is too small on your screen/device you can go ahead and zoom in.  Or just scroll up!]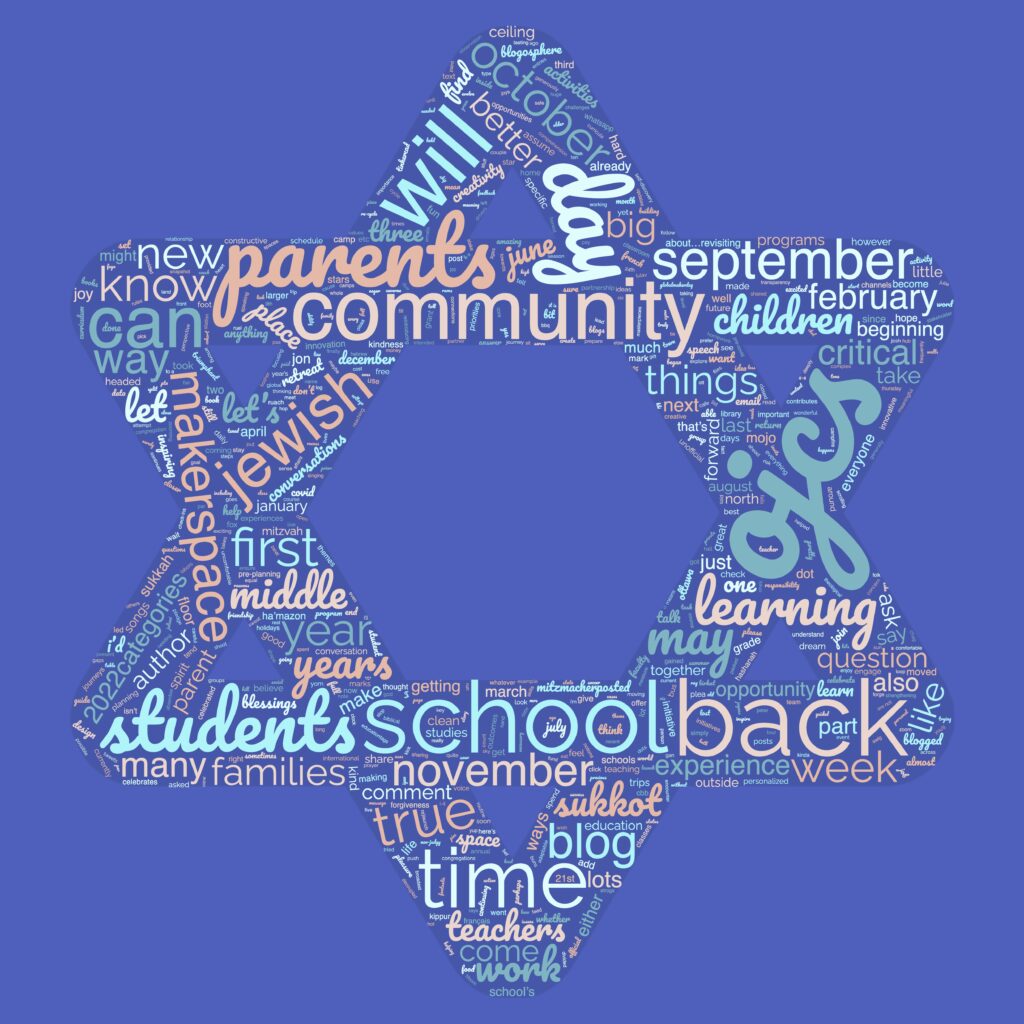 I just put last and this years' clouds side-by-side to do a little comparison.
Guess what didn't make the list at all?!
COVID!
"Jewish", "Learning" and "Time" remain strong.  "Community" is back and "Students" and "Parents" have also returned to prominence.
We see "Middle" and "Makerspace" and "Blog" show up in a big way, with "Makerspace" debuting in this post.  I think "Middle" is a reflection of how much time, energy, thought and care we are putting into our OJCS Middle School to continue to ensure that it has both a "value add" and a unique "value proposition" of its own.  It makes sense that the OJCS Makerspace, now that it has launched as a hub of innovation, has raised its profile.
I think the word "back" is so prominent because we have been so excited about all the amazing programs and conversations that we are finally able to bring…back!
Next year I hope to see "Mitzvah Trips" make the list.
What words would you have expected to see?  What words are you surprised to see?
If you see something interesting in my OJCS "blog cloud" let me know in the comments!