Chag urim sameach!  Happy Chanukah!
It was so wonderful to see so many of you at our Annual Chanukah Family Program last night!  I've never seen our Gym so full!  That is what it looks like with a school of nearly 200 students and their families…who knew?!  The kids were amazing and it was so nice to see so many people from our OJCS Family come together to celebrate.  (Check out our social and "The Hadashot" for pictures and videos from this special evening!)
I hadn't prepared to blog an additional time prior to Winter Break, but as I've been poking around the OJCS Blogosphere, I saw so much Chanukah ruach that I thought I might as well take advantage of the opportunity and provide a second "Trip Around" post.  [Click here if you want to revisit the trip we took earlier in the year.]


From the OJCS JK / Gan Katan Blog (click here for the full blog)
Happy Chanukah! – Posted on December 19
Today we made some beautiful unique marbelized invitations for our Chanukah show tomorrow evening! If you're interested in the process and the science, please click here. We learned about the miracle of the 'shemen' (oil) on Chanukah, why shemen (oil) does not mix with mayim (water), and experimented with different kinds of paper that we called 'thirsty' (watercolour paper) and 'not thirsty' (cardstock). We also celebrated the first day of Chanukah with some singing, candle lighting, and window decorating. A very big TODAH RABAH! to Ivri's family for bringing us a beautiful chanukiyah and some lovely candles!
Happy Chanukah!



From the OJCS Grade 1A / Kitah Alef-A Blog (click here for the full blog)
From Friday Features – Posted on December 16
Chanukah is almost here!! We can feel it in the air!
Here are some things we have been doing !
In math we have been working on different graphing activities for our math Unit on Data Management. We conducted a survey for our favourite Chanukah Treats. We are working on a booklet using 3 different types of graphs. Bar Graphs, Pictographs, and Tallie marks. We are looking forward to seeing how your family likes their Latkes, when our homework is returned on  Tuesday.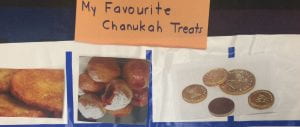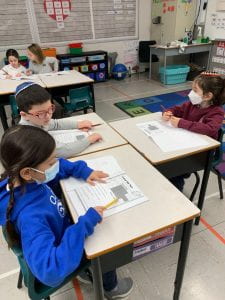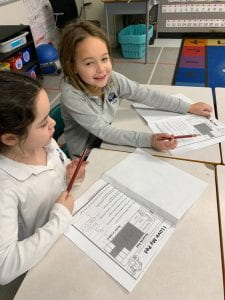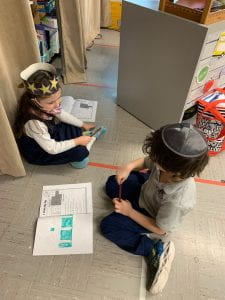 From the OJCS Grade 3/ Kitah Gimmel-A Blog (click here for the full blog)
Oh Chanukah, Math-manukah – Posted on December 14
This week we took our problem solving skills and applied them to a series of Chanukah themed Math problems!
We worked on 4 different problems;
Morah Lianna made latkes for her friends and family. She fried up 72 latkes for her 18 students in 3A and all of the 35 teachers at OJCS. How many did she have left after 3A and all the teachers ate their latkes?
Morah Lianna was collecting gelt to play dreidels with. She collected 80 chocolate coins, but while she was on recess duty, Mrs. Cleveland ate 17 of them and Ms. Beswick came to take 25 of them. How many chocolate coins did Morah Lianna have left?
Morah Lianna and Cooper were getting ready to light the Chanukiah. She had 28 candles ready for the holiday, but Cooper accidentally ate 6 candles and broke 4 more. How many candles did Morah Lianna have left?
Morah Lianna was making Chanukah gift bags. She made 8 bags in total. Each bag will have 2 dreidels, 2 sufganiyot, and 5 chocolate coins. How many dreidels does Morah Lianna need to buy? How many sufganiyot does Morah Lianna need to buy? How many chocolate coins does she need to buy? What if she wanted to make 10 gift bags in total, instead of 8?
The students worked in small groups to answer their problem.
Then they all shared their thinking and reasoning in order to learn from each other! We even worked as a class to correct some of the errors we made with our Math operations (#NorthStarAlert! We Learn Better Together)

Stay tuned for next week's Chanukah related Math problem!


Hope you enjoyed the brief tour and, I bet, if you take a peek after reading this post, you'll see even more Chanukah joy reflected.  Enjoy the last few nights of Chanukah!
BTW – if you like a playlist and a signature cocktail for your celebrations [I see you Nancy!], why don't you go ahead and make yourself a Chanukah Gelt Martini and vibe to this playlist: