What a strange and wonderful week!  Starting school after Rosh Hashanah and being back in school in person?!!
On behalf of the teachers, staff, administration, and board of this school, I cannot tell you how wonderful it is to have actual live human beings again filling our building with their energy, their ruach, and their smiles (we've all become experts at seeing smiles beneath masks)!  We have rightfully put so much energy into our COVID safety protocols over the last two school years that it is easy to forget that we are not public health officials, but educators who are in the business of teaching and learning.  I have had ample opportunity to wander the hallways, to be in classrooms, and outside in playgrounds and after just two days of school, I am perfectly able to pronounce that as of now shofar so good!
Here's just a little taste of what the first two days at OJCS have looked and felt like…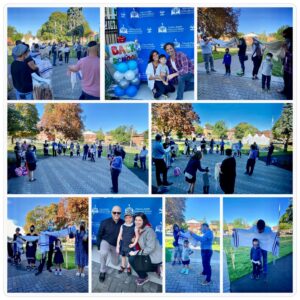 …we began our first day with two "Welcome Ceremonies".  With Junior Kindergarten returning to OJCS this year, we conducted special "Welcome Ceremonies" for parents in both JK and SK to mark the beginning of their children's formal Jewish day school journey at OJCS.  We gathered under (socially distanced) tallitot as each grade- level team shared a welcome poem with their students.  We joined together in shehechiyanu and then it was time for hugs, kisses, last photos and goodbyes.  We are always honoured – and never take for granted – when a family chooses OJCS to provide the sacred and holy task of education, and we hope this is just the first of many rituals and moments we share together in the years to come.
…we held our annual Welcome Back Assembly, still virtual for at least one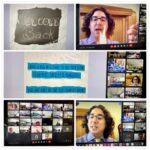 more year, during which we introduced new teachers and celebrated our opening havdalah where we creatively appropriate the ritual of separation to mark the transition from the summer to the start of school.  We were encouraged to think about what from the summer we want to carry forward into school and, considering the season, to think about who we were last year and who we hope to be in the year to come.
…students found their way back to lockers and classrooms that have been waiting for them since last April.
…playgrounds and courtyards were filled with laughter and games and, for Middle School, food as the Outdoor Cafeteria is back and open for business.
…everyone is remembering/learning which entrances and exits and washrooms and water fountains and hallways belong to them, and how to find their way from this to that.
…there is a joyful cacophony of Hebrew, French and English that captures our trilingual nature and is a pleasure to hear throughout the building.
…the OJCS Makerspace is gearing back up for a delayed reopening and you should stay tuned for an exciting announcement about the Makerspace!
We have seen over the last two years how amazing our teachers have been during distance learning pivots planned and unplanned and through hyflex engagement.  And we know that our community has been paying attention as our enrollment continues to grow each and every year.  Imagine how extraordinary our school is going to be now that we have planned out each and every scenario!  If you are a current OJCS parent, of course, you don't have to imagine – you can see it each and every day.


Please save the date for Virtual Back to School Night on Tuesday, October 12th at 7:00 PM.  In addition to all the normal things one discusses at Back to School Night, this year we will also be sharing grade-specific plans for how students who may be kept home from school for different reasons will be able to continue to learn even as we move away from hyflex learning.


Please be on the lookout for updated COVID vaccine policies now that both the Ministry of Education and Ottawa Public Health have shared new requirements and recommendations for private schools.