What a strange blip in the calendar to have Rosh HaShanah right after Labour Day Weekend!  For our parents and students, it may simply elongate summer by a couple of days.  For our teachers and staff, however, it creates this odd break between the intense week of "Faculty Pre-Planning" that we are finishing up now and the actual first day of school almost six days later.  As odd as that all may be, what is not odd is how wonderful it has been to be back in a physical building working with actual human beings (masked and distanced and vaccinated to be sure) in the service of preparing for the sacred and holy task of educating children.  We are certainly not back to normal with our COVID FAQs and assorted protocols, but we are sorta-kinda back to things that feel normal-ish – and that feels great!
Do you ever wonder how we spend this week of preparations while y'all are busy getting your last cottage days or summer trips or rays of sun in?  If so, this post is for you!
Seriously, I do think there is value in our parents (and community) having a sense for the kinds of issues and ideas we explore and work on during our planning week because it foreshadows the year to come.  So as you enjoy those last days on the lake or on the couch, let me paint a little picture of how we are preparing to make 2021-2022 the best year yet.
Here's a curated selection from our activities…
The (Re)Building Communities Cafe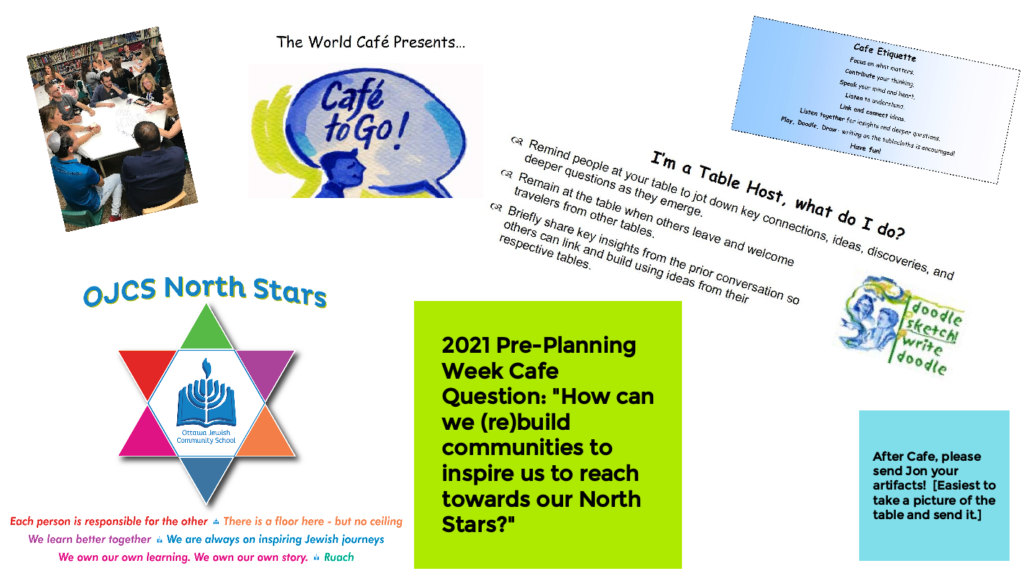 Each year (14 years, 5 at OJCS and counting!), I begin "Pre-Planning Week" with an updated version of the "World Cafe".  It is a collaborative brainstorming activity centered on a key question.  Each year's question is designed to encapsulate that year's "big idea".  This year's big idea?  (Re)building communities!
After the last two years, we are eager to begin reconnecting and rebuilding across and between our various OJCS communities – students, teachers, parents, board, and community.  We spent the morning exploring what this might mean…for example…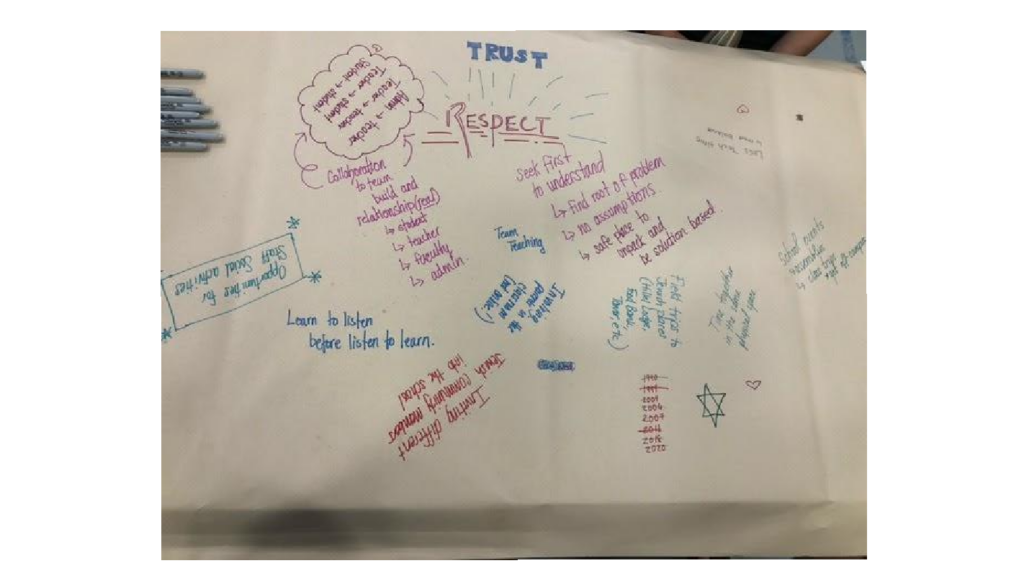 Carrying Forward: Lessons from Hyflex
What can be true for students who may need to learn from home this year when we are not offering a hyflex program?  Home for a few days?  Home for a few weeks?  In order to share our plan with parents as we continue to prioritize students remaining at home for COVID-related reasons, we spent valuable time asking the following kinds of questions:
What from schedules, links, blogs and platforms will carry forward from hyflex learning?

Are there grades/subjects where virtual participation could be a value add for both student and teacher?
What should parents and students expect from different grades/subjects should they need to be kept home from school, but need to stay on track?
Parents can look forward to plans being shared during Virtual Back To School Night on Tuesday, October 12th.
Faculty EdCamp
One of our favorite PD activities is letting the excellence that is already on our staff be shared more widely.  For this activity, four of our teachers offered sessions to their colleagues on topics of their own choosing in a bit of a more relaxed, camp-style presentation:
Faye

Mellenthin:

"Disarming armoured leadership…"

Lianna Krantzberg: 

"

Twitter Chats 101" 

Julie Bennett: 

"

Global Connections and Authentic Tasks"

Melissa Thompson: "EdPuzzle"
Teachers got to choose two different sessions to attend and it is always great to watch teachers be inspired by the work of fellow teachers.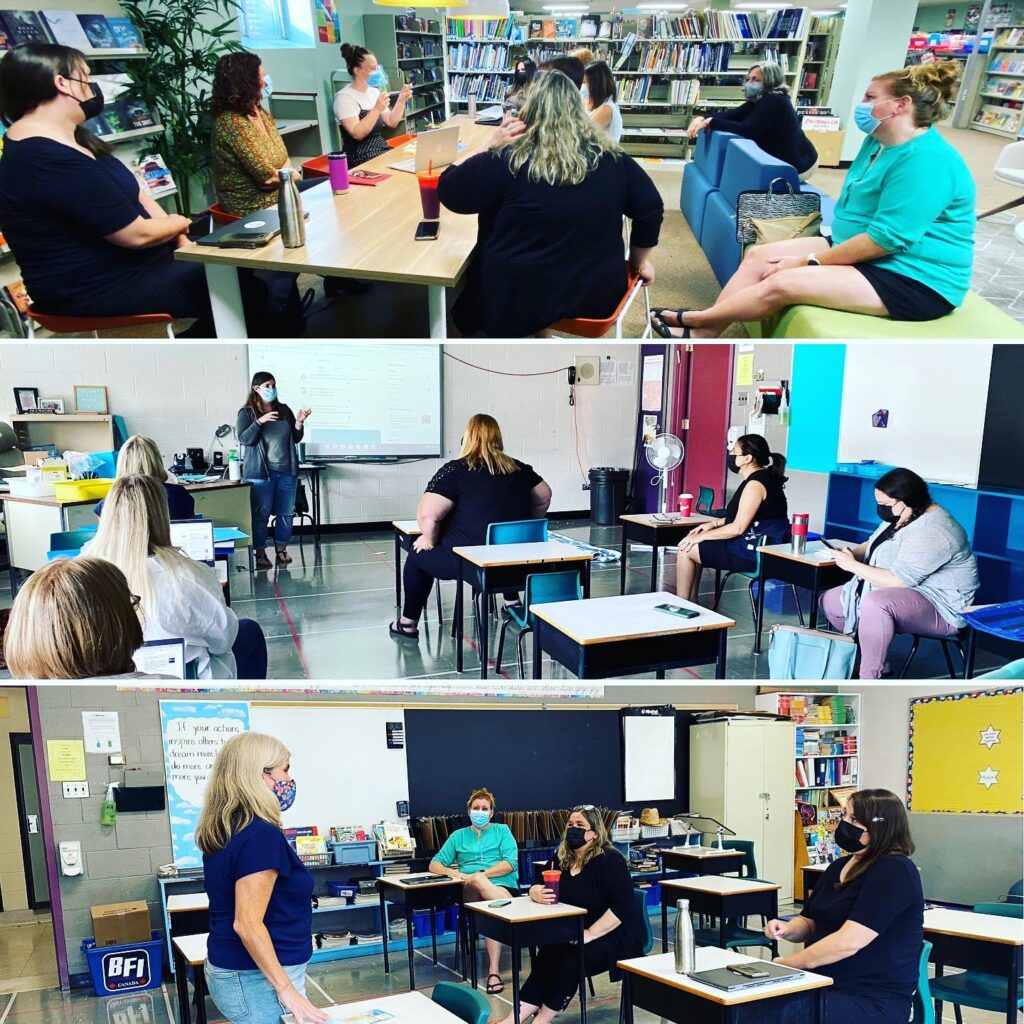 Book Tasting: The OJCS 2021 Summer Book Club
I think you can tell a lot by the books a school chooses to read together.  Here were the selections for this summer, which culminated in a "Book Tasting" session where lessons and wisdom were gleaned and shared:
If you want to know more about the big ideas that shape our work, feel free to read one or more of these books and tell us what you think!


Did I do one of my spiritual check-ins on the topic of the "Relationship between 'criticism' and 'growth'"?  Sure did!
Did Mrs. Thompson and I do great differentiated sessions on use of classroom blogs and student blogfolios?  Yup!
Did our teachers spend meaningful time updating their Long Range Plans?  100%!
Did Mrs. Bertrend help us understand how we can (re)build community through Student Life at OJCS?  Yessiree!
Did Mrs. Reichstein lead a session on "Shifting the Spec Ed Narrative"?  You bet!
Did Ms. Gordon go over all the guidelines and protocols and procedures and rules and mandates to keep us all safe?  No doubt!
Did our teachers have lots of time to meet and prepare and collaborate and organize and do all the things needed to open up school on Thursday?  And then some!
All that and much more took place during this week of planning.  Needless to say, we are prepared to do way more than create a safe learning environment this year.  We are prepared to develop a rigorous, creative, innovative, personalized, and ruach-filled learning experience for each and every one our precious students who we cannot wait to greet in person on the first day of school!
Wishing you and yours a wonderful holiday weekend, a Shanah Tovah U'metukah and a successful launch to the 2021-2022 school year…