I found myself nudged early last week – and justly so – by my Jewish Studies Faculty for not having quickly issued a statement about the situation in Israel.  It wasn't that I wasn't paying close attention.  I just shared last month my perspective (and my pride) about having my older daughter studying in Jerusalem.  I always try to pay attention to what is happening in Israel, but I have naturally been paying even-closer-attention since she arrived.  I knew as soon as anyone about the current escalation of violence through the WhatsApp message you can see above.  I knew and I cared and yet still I delayed speaking.  Why?
Well, I guess that similar to other issues of national or international import, I am never entirely certain whether it is an appropriate use of my small slice of the blogosphere to add to a conversation in which I bring no particular expertise and no concrete suggestions.  Is there something I can say or offer that will help address what is going on in Israel right now and how we could or should respond?  Do I have something critical to share with our school community about how to process and discuss current events?
The truth is that our school is taught by talented and bright professionals who have access to a myriad of resources.  Our community (in concentric circles of city, province, country and international) provides all kinds of additional expertise which I do my best to funnel to our families, teachers and alumni.  I can be a hub for sharing inwards and a megaphone for sharing outwards, but I certainly don't think that I have an answer or a perspective that will move the needle in anyone's conversation or advocacy.
And yet…
Saying nothing at all doesn't feel right either.  As a Jewish educator – as a Jew – I believe it is appropriate to speak purely from the heart about Israel…
…a place that changed my life in 1988.
…a place that changed it again in 1992.
…a place that changed it once again in 1997 and 1998.
…a place in 2021 that I have sent my older daughter to study, and will do the same for my younger one when she, too, reaches Grade 10 in 2024.
…a place that I anxiously await revisiting.
Because like a lot of Jews of my generation, a teen Israel experience (along with camp) was a crucial step on my Jewish journey.  It also was my very first job in Jewish education.
I've shared this first part before.  I first went to Israel in 1988 as part of our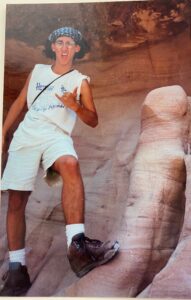 local Federation's teen tour.  It was an extraordinary experience and I met friends that summer that I am still close with today.  I returned to Israel in 1992 as part of a NFTY in Israel summer experience.  (Yes, that is a bandana over my long, long hair.)
My very first job in Jewish education was working for the Bureau of Jewish Education of Greater Los Angles (BJE-LA) running teen programs, paramount of which was the LA Summer-in-Israel Ulpan.  I cannot provide a link to the program because, unfortunately, it no longer exists, but for many years it was a signature summer-in-Israel program combining the regular touring experiences of other trips with an actual Hebrew ulpan for which students received high school and college credit.  I spent the summers of 1997 and 1998 leading this trip and having an opportunity to provide teens with the experiences I had been blessed to have as a teen myself.
The power of the Israel experience is real.
That's why we visit.  That's why so many do our first or second b'nai mitzvah there.  That's why we have Federation and synagogue missions.  That's why we send our Jewish day school classes (like I hope we will one day do here at OJCS).  That's why we send our teachers for professional development.  That's why we make aliyah.
That's why the current situation is heartbreaking.
I have no interest in injecting politics of any kind.  I have my beliefs and I am sure you do as well.  I don't know what the answers are to safeguard our homeland, our beating heart.  I'm not even sure that I even know the questions.  I am sure that the opportunity to experience Israel transformed me and the opportunity to provide that experience to others transformed me just as thoroughly.  To contemplate the idea that one day it could prove too unsafe to visit stirs my soul to anger. To wonder if one day it could prove impossible shakes me to my core.
Our daily prayers call upon us to face our sacred ancestral home.  May a day come when peace envelopes our home, our Israel.
And may that day come without delay…